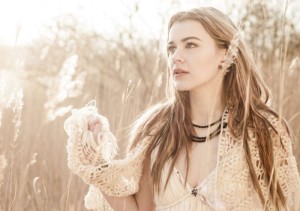 It quickly became a big story when Emmelie de Forest in this year's Danish final was able to present herself as being the great granddaughter of British Queen Victoria. Several researchers have been digging into her story and they disagree about the results.
Queen Victoria (May 1819 – January 1901) reigned more than 63 years and that period is known as the Victorian era. She married her cousin, Prince Albert, in 1840 and together they had a total of 9 children. One of them, Edward VII, is the interesting one when it comes to Emmelie de Forest. He married Danish princess Alexandra, but it is through his many affairs the Dansk Melodi Grand Prix winner comes into the picture. At the age of 60 Edward had a son with a Swedish born Austrian princess. That son was Emmelie's grandfather.
That was the story that was being told in Dansk Melodi Grand Prix in January to introduce Emmelie. It naturally drew a lot of attention, which didn't get any less as she won the final and will be participating in the Eurovision Contest next month. It is hard to imagine that the story won't be repeated by many of the commentators and as such it will become even more known.
The story is however now being doubted. The American author Marlene A. Eilers Koenig who has worked as researcher for media like Associated Press, CNN and The Daily Telegraph concludes that Emmelie's story doesn't match. Marlene has written several books about Queen Victoria's life and relatives and has been digging into the background of Emmelie Charlotte-Victoria de Forest. She concludes on the blog Royal Musings that Emmelie "has Swedish and Finnish ancestry, as well as American roots. Her great-grandparents were Americans".
It is also being mentioned that the sur name was the Swedish Engström until it was then changed to de Forest – maybe as late as 20 years ago. You can read Marlene's entire research about Emmelie de Forest background on the blog Royal Musings.
For a few days EuroVisionary have been trying to get a comment from Emmelie de Forest. This hasn't been possible and instead DR is now today running the story as well. Here they mention that they have talked to British genealogist Tony Martin who concludes that "it is impossible for me to prove the connection between Emmelie and Queen Victoria. There are things we don't know due to lack of source material, but there IS a connection between Emmelie and the British Royal family". What the connection then is if it is not to Queen Victoria he however doesn't mention.
This goes in contrast to Marlene A Eilers Koenig's research – and DR has also decided not to include the story in the official promotion, but they also mention that it is only the Danish media who finds the story interesting as the foreign ones only focus on her song. 
DR's entertainment boss Jan Lagerman Lundme ends by saying: "The fact that Emmelie is the biggest favourite among the international bookmakers and have been so ever since she won the Danish final is only due to the song, her performance and her fantastic and wonderful charisma on stage. She is simply a 20 year old superstar."
So does Emmelie have a royal background or not? One researcher says "Yes there is a connection to the british royal family, but it can't be proven whether or not it is to Queen Victoria". Another one says "No, Emmelie has Swedish and Finnish background and American grandparents".
Danish newspaper BT writes today that Emmelie de Forest is sticking to the story about Queen Victoria being her great grandmother.
You might also want to read: