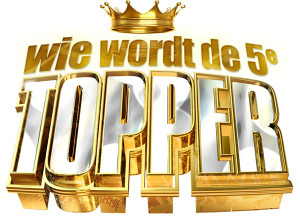 First they were three, then two, then three again in another line-up, and then four and now they will be five – for at least three concerts. Yes, it is the Dutch drama queen band De Toppers we are talking about and an online audition for the fifth person starts tonight.
The audition takes place at 5minuten.tv from midnight and everyone is free to apply. The winner will get to sing on stage with the other four Toppers members at three concerts in the end of May – for now is the plan that the fifth person will sing along on a medley.
When De Toppers were asked to represent the Netherlands at the 2009 Eurovision Song Contest the band consisted of three people; Gordon, René Froger and Gerard Joling. A couple of months before the national final were to take place Gordon and Gerard got into one of their many public fights. This one was a little more serious though as Gerard, who had already represented the Netherlands at the international contest in 1988 with Shangri-la, decided to leave the band.
After a few days with the public guessing on possible replacements the remaining two band members announced that Jeroen van der Boom would take Gerard's place and the band, in this new line up, would go to the Eurovision Song Contest as planned.
Some months after failing to reach the final in Moscow with the song Shine written by Gordon himself Gerard and Gordon, who have always had a love-hate relationship, once again settled their disagreements and Joling returned to the band. Jeroen had however become such a big part of De Toppers that he continued as well making them a band of four.
For a while it has been rather quiet about them in the way that they have done their jobs, but not had much extra publicity due to the fights they were known for. Now they are reaching the spotlight again by this competition.
The three concerts take place on the 27th, 28th and 29th of May in the Amsterdam ArenA. It is the largest football stadium in the Netherlands and for concerts like this it can host more than 60.000 spectators. If you want to on that stage together with this very popular band the audition starts tonight.
Below you can see some of our videos with The Toppers, as they called themselves at the Eurovision Song Contest, from Moscow 2009. More great videos can be found on our Youtube channel.