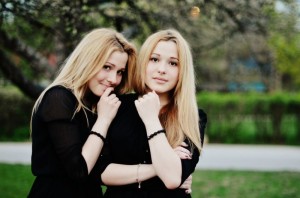 Tolmachevy Twins has now officially beeen announced as the act that will represent Russia in the next Eurovision Song Contest in Copenhagen in May. The Russian sisters who won the 2006 Junior Eurovision Song Contest will now move up into the senior contest. 
Tolmachevy Twins were internally selected to represent Russia in the first semi-final of the Eurovision Song Contest on 6th May. The duo is best known for their jazzy song Vesenniy jazz  who gave them victory in the 2006 Junior contest that took place in Bucharest, Romania.
So far it is unknown which song they will sing in Denmark but the Russian broadcaster is expected to make announcement about the song soon. The twins hailing from the city of Kursk, appeared in the opening act of the first semi-final of the 2009 Eurovision Song Contest. That year the contest took place in Moscow.
Russia owns a very good track record in the Eurovision Song Contest. Since 2004, when the semi-final format was introduced, the country never missed a participation in the grand final. The country debuted in 1994 and in 2008 Dima Bilan managed to clinch victory with the song Believe. Last year, Dina Garipova received a respectable fifth place with the song What If.
You can watch the Tolmachevy Twins performing their winning entry in the 2006 Junior Eurovision Song Contest below.
You might also like to read: 
San Marino reveals Valentina Monetta's entry for Copenhagen 
Aram MP3 presents his Eurovision entry Not Alone
Can Basim use the Danish national flag on stage in Eurovision?