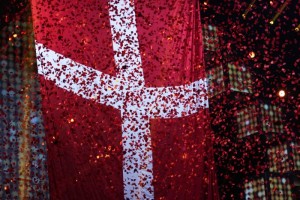 Basim's use of the Danish flag, the Dannebrog, in his performance in the national final, has caused quite a furore in Denmark. The question everyone wants an answer to is simple: Will it offend TV viewers throughout Europe? There are however other recent examples where countries use their flag on stage. 
In the days after Dansk Melodi Grand Prix 2014 a lot of focus was naturally focused on 21 year old Basim who will now be representing Denmark on home ground at the Eurovision Song Contest in May. It wasn't so much the song, or Basim himself, people were talking about. It ended up being all about a flag, the Danish flag! 
Sunday morning saw Danes awakening to the main headling of tabloid BT announcing that Bryan Rice, who also participated in the national final, was accusing Basim of using unsavoury methods to win. They made Bryan look like a bad loser, and they also made it look like Basim had reason to doubt the close friendship, that the two performers actually have. None of it was true, and one only had to dig a little deeper into the interview to realise this. Bryan spoke with a lot of respect for Basim and when asked if there was any advice he would like to share with him, he mentioned that it might be an idea not to use the flag as he feared that it could be seen as tasteless and too nationalistic in other countries. 
Bryan Rice posted a statement on his Facebook profile repeating his respect for Basim and also rightfully showing annoyance towards BT, who clearly broke press etiquette by twisting his comments.
The winner himself, Basim, had this to say about the use of the flag "The Dannebrog (The name of the Danish flag, EDT.) is a symbol of solidarity. People should be proud of the fact that I am using the Dannebrog. Cliché Love Song is about being free and Denmark is a free thinking country where we can do and say as we please, not to mention love the ones we want to. If a woman loves a woman or a man another man, it doesn't matter. At least not here in Denmark. That is why the Dannebrog is a beatiful symbol for that here we can be what we want to be. And I am glad to be Dane".
The Danes certainly do use their flag a lot more than many other countries. It is present at every birthday as part of the decorations. Christmas trees are also decorated with flags and many people have a flag pole in their garden where the flag is flown at least a couple of days a week.
It wasn't just Bryan Rice who has sent out a warning that foreigners might not get it if Denmark incorporates their flag into the stage presentation. Several figures have also stated that people abroad will find the gesture tasteless, too nationalistic and even a sign of a state with slightly dictatorial tendencies. In other words, the exact opposite of what the song is about. In the wake of these reactions Basim has been quoted as saying: "There are all sorts of rules within Eurovision – I don't believe flags are allowed on stage, which is too bad. We'll just have to put a big one up outside B & W hallerne! We have to do something fun – the Dannebrog should be used more often".
The rule Basim will be refering to here is this one:  
Rule 1.2.2 – chapter H:
The lyrics and/or performance of the songs shall not bring the shows, the ESC as such or the EBU into disrepute. No lyrics, speeches, gestures of a political or similar nature shall be permitted during the ESC. No swearing or other unacceptable language shall be allowed in the lyrics or in the performances of the songs. No messages promoting any organization, institution, political cause or other, company, brand, products or services shall be allowed in the shows and within any official ESC premises (i.e. at the venue, the Eurovision village, the Press Centre, etc.). A breach of this rule may result in disqualification. 
The question is then if this covers a national flag. EBU's Jarmo Siim says that "in the end it will be up to the reference group to decide, but we have before seen such things on stage without it being used in an offensive way". 
Jarmo is correct in maintaining that there are examples where countries have used national flags as part of the staging. EuroVisionary's team members came up with these examples:
Finland 2006: Lordi used the Finnish flag on stage during their performance where they were wearing hats with the national flag.
Estonia 2008: Kreisiraadio used several national flags which they waved around on stage in their performance, not only the Estonian one.
Ukraine 2009: Here they had two large Ukrainian flags standing on stage during the entire performance. They were on each their side of a drumkit which was moved to the centre of the stage (including the flags) and used by the singer Svetlana Loboda in the second half of the song.
Israel 2000: PingPong waved both the Israeli and the Syrian flag in their number.
Ireland 2008: In the performance of Irelande Douze Points the Irish flag was visibly incorporated into everyone's outfit on stage.
Greece 2009: When the platform opens towards the end of the song with Sakis standing on it, a large Greek flag was revealed underneath.
UK 2007: Lots of different national flags were used at the end of this song where the serving trolleys were turned around to reveal the many flag put together as background.
Time will tell whether or not Basim will have the Dannebrog with him on stage at the 2014 Eurovision Song Contest.
You might also like to read: