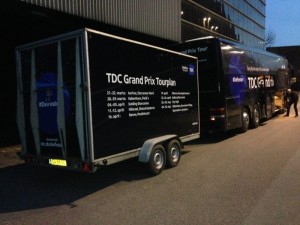 Under the hashtag DelFesten (Share the party) main sponsor of the 2014 Eurovision Song Contest, TDC, has started a tour across the country which involves a karaoke competition with Annette Heick as judge. The sponsor has been really active promoting Eurovision lately.
The past few months several different TV adverts have been running in Denmark all featuring last year's Eurovision Song Contest winner Emmelie de Forest and her song Only Teadrops. The adverts show a big commitment to the contest from main sponsor TDC.
TDC now takes it one step further as they in the weekend launched a tour around the country which will include karaoke where the participants will be styled as a Grand Prix participant. The best ones wins tickets to the Eurovision Song Contest final as well as a hotelroom paid for in Copenhagen.
People who want to participate can join any of the TDC Grand Prix events on Facebook or they can already now upload their karaoke version to TDC's DelFesten webpage. You will have the option of chosing between the following songs:
Emmelie de Forest – Only Teardrops (2013)
Rollo & King – Der Står Et Billede af Dig På Mit Bord (2001)
Birthe Kjær – Vi Maler Byen Rød (1989)
Hot Eyes – Det Lige Det (1984)
Brixx – Video Video (1982)
Tommy Seebach – Disco Tango (1979)
On TDC's Delfesten webpage you can also see what others have been doing, if you need to gain some courage or inspiration first. 
The tour kicked off in Århus this weekend, and will continue to Copenhagen, Kolding, Hillerød, Bornholm, Odense, Aalborg and Vejle in the weekends up until the final in Copenhagen on the 10th of May.
TDC has uploaded a short video with the winner from Århus. You can see that on their Facebook page. 
As judge of the competition Annette Heick has been mentioned. She is the daugther of keld Heick who has written lyrics to 10 of the Danish Eurovision entries. Annette has also participated in the national final twice herself; in 1991 together with Norwegian Egil Eldøen singing Du Er Musikken I Mit Liv and again in 2007 with the self composed song Copenhagen Airport. A second and so far secret jury member will be presented later, but the person is mentioned to be a true veteran in showbizz.
You might also like to read: