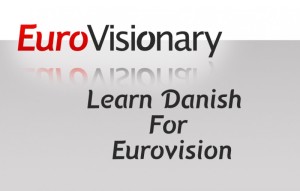 Are you going to Copenhagen in May for the Eurovision Song Contest? Don't miss out on EuroVisionary's language course that starts tomorrow. Whether or not you want to be able to get by a bit in Danish or just want to impress the locals with a few sentences, this language course is for you.
Don't expect to become fluent in Danish just by following our video lessons as that requires more intensive studies. They will however be able to give you a pretty good basic depending on how much effort you put into it. Each episode will have each their main topic, which makes you able still to learn something should you not have the time to follow all of them. If however you dedicate yourself to them, practice what we teach you and maybe even ask us follow up questions, you should be able to get by in Danish for the Eurovision Song Contest in May.
In general the Danes are quite good at English and the language is widely spoken throughout the population. In most situations you should have no problems being able to get help in English – that is if you overlook the typical "s"mistake. You might also have noticed it in Sweden as it is quite typical for the Scandinavians that they often get it wrong when to add the "s" and when not. If you watch a lot of Scandinavian film and TV-series with a bit of English in it, you will also notice it. The Scandinavians are not stupid, the know the rule, but as soon as they start speaking or writing English it comes so natural to them, that they overlook that they get that bit wrong half the times 😉
So do you want to learn Danish? It starts tomorrow. The first lesson, about numbers, will become available tomorrow on our YouTube channel and we will provide you with a background article explaining more here on EuroVisionary.