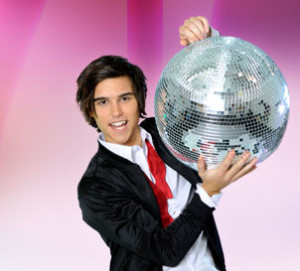 With Sweden choosing its participant tonight we have come to an end of the national finals. The Swedish population in combination with an international jury decided that Eric Saade will represent the country in May, despite hurting himself during tonight's performance. The national final offered several former participants in situations unfamiliar to them.
In Sweden ten acts had over a period of five weeks qualified for the national final, Melodifestivalen, and tonight it ended with the big finale that sent Eric Saade off to Düsseldorf, Germany with the song Popular.
His job there will be first to qualify for the final, something Anna Bergendahl didn't manage last year in neighbour country Norway.
Next step is to try to achieve one of those top10 placements the country used to be so good at, but haven't seen since 2006 with Carola's Invincible.
Should he win then it will be Sweden's 5th victory in the Eurovision Song Contest, but the first since 1999 where Charlotte Nilsson (now Perrelli) took the trophy home to the blue and yellow Nordic country with the song Take Me To Your Heaven.
The participants:
Song number 1: Danny – In The Club ( Figge Boström, Peter Boström, Danny Saucedo)
Song number 2: Sara Varga – Spring För Livet (Sara Varga, Fredrik Boström)
Song number 3: The Moniker – Oh My God! (Daniel Karlsson)
Song number 4: Brolle – 7 Days And 7 Nights (Brolle)
Song number 5:  Linda Bengtzing – E Det Fel På Mej (Pontus Assarsson, Thomas G:son, Jörgen Ringqvist, Daniel Barkman)
Song number 6: Nicke Borg – Leaving Home (Jojo Borg Larsson, Nicke Borg, Fredrik Thomander och Anders Wikström)
Song number 7: Swingfly – Me And My Drum (Teron Beal, Patrik Magnusson, Johan Ramström, Swingfly)
Song number 8: Sanna Nielsen – I'm In Love  (Irini Michas, Peter Boström, Thomas G:son, Bobby Ljunggren)
Song number 9: The Playtones – The King (Fredrik Kempe, Peter Kvint)
Song number 10: Eric Saade – Popular (Fredrik Kempe)
During the performance Eric Saade, as a part of the act, break down some glass walls. During the first part of the international voting he is missing and the host says that he is just getting some splints removed from his eyes. He comes back and says that it is all fine now. 
You might also want to read:
The show:
Tonight's Swedish final kicked off with the hosts, Marie Serneholt and Rickard Olsson, singing a Swedish version of Up Where We Belong. The song was originally performed by Joe Cocker and Jennifer Warnes and used in the 1982 film An Officer and a Gentleman.
After all ten acts performed it was time for first interval act. Here they continued the project from the other heats where Nanne Grönwall, Lena Philipsson (Sweden 2004), Christer Sjögren and The Ark (Sweden 2007) were challenged in different genres that they are use to. Tonight they all performed together Scorpion's Rock You Like A Hurricane. 
Between the announcement of the vores from the juries and the televoting result the group Dynazty give their version of last year's Swedish entry; This Is My Life. After this rock version Anna joins the stage to hand over the trophy to this year's winner. 
The voting: 
11 international juries and the Swedish TV viewers had 50% each say in who should represent the country at the 2011 Eurovision Song Contest.
A  big question was how would the international jury vote as this could give an indication of which of these ten songs would do best in Düsseldorf, but unfortunately the international jury didn't quite agree:
Russia gives its 12 points to Oh My God! Ukraine gives 12 to I'm In Love, France prefers Popular, Greece gives its 12 points to I'm In Love, Malta picks Popular as their favourite, Croatia's 12 points goes to E Det Fel På Mej, San Marino gives the top points to Me And My Drum, this year's host country Germany has 12 points for In The Club, United Kingdom gives the 12 to Popular, the 12 points from Ireland goes to I'm In Love while neighbour country Norway awards Me And My Drum with their 12 points.
Here is their top 3:
Popular 81
In The Club 79
I'm In Love 75
The Swedish population top points to Popular.
Combined Top 3:
1. Popular
2. In The Club
3. Oh My God! 
Sweden will participate in the second semi-final of the 2011 Eurovision Song Contest held in Düsseldorf, Germany in May. they have been drawn in the first half meaning they will be starting at the latest as song nr. 9. On Monday the 14th we'll know the exact starting position.