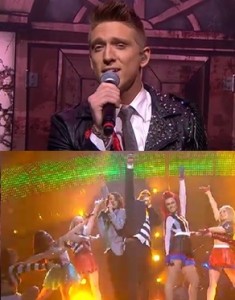 After weeks of preparations, tonight it was finally time for the first Swedish semi final of 2011. With lots of experienced artists competing this week the conditions were perfect for an exciting evening. And indeed it was exciting, and when the evening had come to an end Danny and Swingfly was the ones crowned winners of this heat.
Melodifestivalen is a huge production and one of the tv shows with the largest amount of viewers in Sweden. SVT invests a lot each year so that Melodifestivalen will continue to be Swedens leading entertainment show on TV. And they didn't disappoint us this year either. Besides the artists, which this year have exceptionally high standard we will meet Swedish stars as Nanne Grönwall and actor Peter Stormare in tonight's show.
The hosts of Melodifestivalen 2011, Marie Serneholt and Rickard Olsson is both well known to the Swedish viewers. Marie is one of our dearest artists and has had a long and successful career, even though she is only 27 years old. She started her career as a member of the group A-teens singing ABBA covers. If you think she seem familiar, you are right. Marie participated in Melodifestivalen 2009 with the song Disconnect me. Rickard Olsson has been a host of several tv-shows in Sweden. Right now the viewers associate him with a quiz show broadcasted on a daily basis but he has also hosted  a couple of Swedish televised galas and other TV-shows.
The songs
Song number 1: Dilba– Try Again (Niklas Pettersson, Linda Sonnvik)
This is a surprisingly an up tempo song with lots of energy in the music and in the show on stage. Dilba is accompanied on stage by six dancers all wearing black clothes with white stripes. The artist herself is wearing a white very tight dress with black stripes. The tight dress prevents Dilba to dance and move around too much, but she certainly does all that she can to mirror the energy in the song. This is not the Dilba the Swedish viewers are used to see, at least I associate her more with ballads like I'm sorry and Easy. She looks a little bit scared when the dancers lift her up but pulls it off and looks relieved throughout the rest of the song.
Song number 2: Swingfly– Me And My Drum (Teron Beal, Patrik Magnusson, Johan Ramström, Swingfly)
This is another up tempo song and maybe the first real hip hop song we've had in Melodifestivalen ever. Swingfly is accompanied on stage and one male and one female vocalist supporting him during the chorus. There are also dancers with drums who's jerky movements enhance the beat in the song. The drummer girls are wearing short tops and short skirts looking a lot like cheerleaders. Those of you who have heard the song Hey boy which was a collaboration between Swingfly and Teddybears STHLM a couple of years ago might recognize the "boom chica boom" and "zoom zoom zoom" in the chorus. Swingfly is an entertainer, and that is what could save him tonight since the song itself is kind of childish.
Song number 3: Jenny Silver– Something in your eyes (Erik Bernholm, Thomas G:son, Henrik Sethsson)
If you would look up the word Melodifestivalen in a dictionary, you would probably find a picture of Jenny Silver singing Something in your eyes. Her show on stage contains a wind machine and an extremely short sparkling dress and her song sounds like all ABBA songs you can think of all mixed together. Jenny starts off with a lighted microphone stand which she leaves after a while to join the dancers. Due to her short dress and high heels she can't dance a lot, she leaves that to the dancers. This is a little bit boring, it's just what you would expect from a Melodifestivalen entry, nothing more, nothing less.
Song number 4: Jonas Matsson– On My Own (Sari Autio Olsson, Peter Autio)
When the song starts, we find Jonas on small stage out in the audience sitting in a sun chair with a drink in his hand. The drink will soon be changes into a microphone and building up to the first chorus he joins the band on stage and is given a guitar that he will keep for the rest of the performance. He's accompanied on stage by a band and a choir. This is a typical singer songwriter song and at the most something you would listen to when you're on vacation. I told you that there was a lot of "boom chica boom" in Swingfly's song, well, Jonas has his own word "ratada" which you will hear a lot of times. Keeping in mind that Jonas is kind of an amateur in this context he is doing a really good job.
Song number 5: Le Kid– Oh My God (Märta Grauers, Anton Malmberg Hård af Segerstad, Felix Persson)
This is a crazy mix of 70's music, Hanna Montana and The Ark. There are a lot of colors involved in this stage show. And both of the lead vocalists have dresses with intense yellow and pink colors. On stage there was big dancing candy and muffins was hanging from the ceiling. Even though they are not in the same genre there is a risk that Le Kid and Swingfly will attract the same voters because of the slightly childish appearance in their show.
Song number 6: Rasmus Viberg– Social butterfly (Amir Aly, Henrik Wikström)
Rasmus starts to sing right away when the music starts, no wasting time with long intros here. I find myself waiting for a build up to the chorus, which unfortunately never comes. This is a song that could do very well in almost any southern European country but Swedes don't normally fall for this kind of music. Rasmus is accompanied on stage by a couple of guys, one playing the accordion, one playing a guitar case, a drummer and a guitarist which all also seems to be his choir.
Song number 7: Pernilla Andersson–  Desperados (Pernilla Andersson)
This is a typical Swedish song. Take Swedish artists like Håkan Hellström and Lars Winnerbäck and mix them with for example Eva Dahlgren or Marie Fredriksson or any other Swedish artist for that matter, and there you have Pernilla Andersson's song Desperados. Pernilla is the only one singing in Swedish this week, and her song is also a little bit toned down then the other artists. Pernilla is wearing a black dress with long sleeves and the stage is red all over. Even Pernilla's guitar is red. She is accompanied of a band on stage with a pianist, a bassplayer, a drummer and a guitarist.
Song number 8: Danny Saucedo–  In The Club (Fredrik Boström, Peter Boström, Danny Saucedo)
When Danny starts singing you might be tricked to believe that this is a mid tempo song or a ballad. But soon it builds up to be a song you would hear at almost any club around Europe. I can easily see international stars such as Justin Timberlake doing this song. Danny is accompanied on stage by several dancers but as opposed to Dilba and Jenny Silver, Danny is dancing a lot throughout the whole song. This is a very well produced song and show on stage. As one of the journalists of the Swedish newspaper Aftonbladet wrote earlier this week, this might be the tightest show we've ever seen in Melodifestivalen. And it should be, the routine is choreographed by famous choreographer Nick Bass who also has worked with superstars like Beyonce, Britney Spears and Justin Timberlake.
The show
The opening act of the night was the hosts doing a schlager medley, and entertains us with songs like Fångad av en stormvind and Det blir alltid värre framåt natten andBra vibrationer but with somewhat rewritten lyrics. First the hosts makes a little fun of the fact that Sweden hasn't been so lucky in Eurovision Song Contest during the last couple of years. Even SVT makes a little fun of it saying Melodifestivalen is a subject for the Ministry for Foreign Affairs and that all of the participating artists should be interrogated just to be sure we pick the right artist this year.
As always, the interval act was divided in two parts during the course of the show. The first one was a sketch with famous Swedish actor Peter Stormare as a legendary producer Harry Storm. Harry is attempting to teach Nanne Grönwall to be a soul diva. Lesson 1: Harry teaches Nanne how to dance like a diva. Lesson 2: Harry teaches Nanne how to behave like a diva. In next part of the interval act we got to see the result of previous lessons when Nanne Grönwall sang Whitney Houstons I have nothing  in a fabulous golden dress.
The result
SVT is often criticized  for the complicated voting procedure in Melodifestivalen. But this year they've at least decided to keep the same procedures as last year. The five artists with the largest amount of votes proceeds in the competition and the other three are out. Of these five the artist with the largest amount of vote is straight trough to the final in Stockholm on the 12th of March.
The first artist through to the final in Globen was Danny. Still in the race was Swingfly, Jenny Silver, Le Kid and Pernilla Andersson. They were competing for two spots in the Second chance heat and one more spot in the final. Pernilla Andersson and Jenny Silver was the one's sent to the Second chance heat and Swingfly was the second artist going trough to the final. The rest of the artists of this heat finished in the following order:
5. Le Kid 
6. Rasmus Viberg
7. Jonas Matsson
8. Dilba