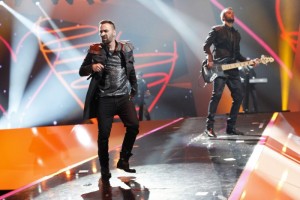 Compact Disco delivered a successful stage and vocal performance at the second rehearsal for Hungary.  In the Crystal Hall the performance sounded just like the studio version.
The five piece band had two guitarists and two keyboard players and were joined on stage by a female backing vocalist. 
The stage lighting was very bright with flashing images in red and black and blue.
The final run through included the use of some flames.  This added to overall performance of this 80s electro type song.
The lead singer and the two guitarists used the catwalk through the song.
The performances could not be faulted and the vocals were perfect today.