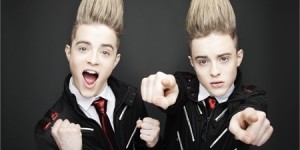 Stockholm may have lost out to Malmö in the fight to host next years contest, but that isn't stopping the city from getting into the Eurovision party mood with a jam packed line up for the annual Stockholm Pride event.
The annual cultural event in the Swedish capital Stockholm Pride is just around the corner again and this year an impressive list of both Eurovision and Melodifestivalen artists are on board to reach out to fans and to help create a party atmosphere. Former Swedish entrant Lena Philipsson (of microphone stand and It Hurts fame from 2004) is the artist who has the responsibility of recording the official theme tune of this year's Pride event. It is called Du Följer Väl Med? (Won't You Join Us?) and has already been released as a single by the Swedish pop sensation. Philipsson will also treat her adoring fans to a live performance of the single on the 4th of August.
On the 2nd of August, a schlagerpop evening extravaganza is planned with quite a few fan favourites from this year's Eurovision Song Contest in Baku dropping in to take part in the fun and games. Flush from her recent success in Sweden, Cypriot beauty Ivi Adamou will no doubt give fans what they want and a rendition of the summer success La La Love. Smouldering Ott Lepland will also feature in the show, and will no doubt have the audience in the palm of his hand as he asks them to listen to his emotional entry Kuula. The Irish Jedward twins will also be on hand to liven up the festivities, hoping to recreate the hysteria they caused with both Lipstick and Waterline in Düsseldorf and Baku respectively. In addition to the Eurovision artists mentioned, fans will also be spoilt for choice with an almost endless array of delectable Medlodifestivalen treats performed by Sean Banan, Da Buzz, Eric Amarillo, Andreas Lundstedt, Shirley Clamp, Sonja Aldén, Sebastian Karlsson and Agnes, to name just a few.
Young megastar Eric Saade is still as Popular now as he was when he sang for Sweden in 2011 and he has also been roped in to give an exclusive performance that should hot things up a bit on the 3rd of August. His show will consist of excerpts from his forthcoming Pop Explosion tour and give the audience a taste of what to expect when he embarks on a nationwide tour later in the year. All in all a jam packed few days of fun and frolics with plenty of schlager for your money. If you're in Stockholm from the 31st of July to the 4th of August, make sure you don't miss out! Tickets are available through Ticnet.se and more information in both Swedish and English can be found on the Stockholm Pride website.