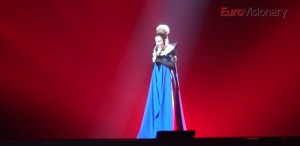 After announcing the number of participants at the Festival i Këngës, Albanian public broadcaster RTSH revealed the running order of both semi-finals on the road to Malmö 2013. Former representatives, Kejsi Tola and Anjeza Shahini are fortunately placed in different semi-finals.
This year, Festival i Këngës, a well-established competition in Albania which has also decided the country's participating name for the Eurovision Song Contest since 2004, will be held for the 51st time with its two semi-finals and a final show. Traditionally, the show will take place at Palace of Congresses (Pallati i Kongresseve) in Tirana.
In addition to past Eurovision representatives Kejsi Tola and Anjeza Shahini would be trying for another chance of winning the competition, we were also aware of popular names such as Dr. Flori and Gisela Gjylbegu who participated in previous editions of the event, will be giving it another try this year. Anjeza Shahini was Albania's very first representative at the Eurovision Song Contest in 2004 with the song Image of You, having the second best position with 7th placing. Kejsi Tola also made it to the final at the 2009 Eurovision Song Contest with Carry Me in Your Dreams, finishing with 17th placing at the end.
Recently, the public broadcaster RTSH announced who will be participating in which semi-finals with their running order of participation. Fortunately, Kejsi Tola and Anjeza Shahini will be participating in different semi-finals. Here is the running order of both shows:
1st Semi-Final (December 20th, 2012):
1.    Selami Kolonja – Ku je?
2.    Rosela Gjylbegu – To be announced later
3.    Kejsi Tola – S'jemi më atje
4.    Vesa Luma – S'jam perfekt
5.    Elis Nova – Ajo
6.    Kozma Dushi – Ëndërr mbete ti
7.    Bon Bon Band – Humbur
8.    Dr.Flori & Fabi – Jam ti!
9.    Merland Kademi – Këtu fillon parajsa
10.    Rezarta Smaja – Ti?
11.    Ardian Bujupi – I çmendur për ty
12.    Xheni & Enxhi Kumrija – Arti i një fundi
13.    Arjela Krasniqi – Më thuaj pse?
2nd Semi-Final (December 21st, 2012):
1.    Arjan Dredhasi – Fluturim i lirë
2.    Adrian Lulgjuraj & Bledar Sejko – Indentited
3.    Hersi Matmuja – Kush ta dha këtë emër?
4.    LNYX – Si ty askush
5.    Entela Zhula – Dyert e parajsës
6.    Anjeza Shahini – Love
7.    Kelly – Ylli im polar
8.    Bojken Lako – Lot… Jetë? Dashuri
9.    Marsela Çibukaj – Mijëra netë
10.    Valon Shehu – Nuk do të ndal
11.    Ani Çuedari – Më ler një ëndërr
12.    NA – Sa larg
13.    Flaka Krelani – Tek ti në shpirt
Last year, Rona Nishliu had the honour of representing Albania in Baku with the song Suus, achieving 5th place, which is also the best position ever in country's history. Below you can watch last year's representative act in our 3D video. If you do not yet have a pair of suitable glasses we recommend getting hold of EuroVisionary's 3D glasses.
You might also want to read: