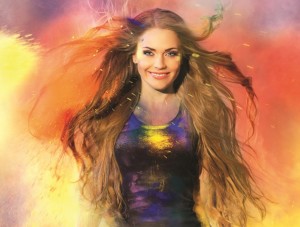 The new album from Alyona Lanskaya is now available for download. It is called Solayoh and it includes no less than three remixes of her Belarusian Eurovision entry as well as
the original version that she performed in Malmö and the official video.
Alyona Lanskaya, who represented Belarus at the 2013 Eurovision Song Contest, has just released her new album whose title is Solayoh, just like her Eurovision entry for Malmö.
The idea of recording this album came up when Alyona was looking for a song to perform at the 2013 Eurovision Song Contest. For this, she was working with different authors and she recorded several demo-versions of songs which led her to conclude that only one of those songs would be the chosen one for Eurovision, but all of them were outstanding and deserved to be part of an album.
The album contains nineteen tracks which are authored by songwriters from all over Europe as well as from Belarus. Among them there are the acclaimed international UK songwriter Dele Ladimeji, the Swede Bernard Löhr or the Belarusians Leonid Shirin, Yuri Vaschuk and Aleksey Shirin. It has been produced by the British composer Simon Bass and it was recorded in two well-known music studios such as Abbey Road in the United Kingdom and the Mono Music in Sweden.
It also includes the songs All My Life, the one with which Alyona was about to represent Belarus at the 2012 Eurovision Song Contest before she was disqualified when it was discovered that the voting had been rigged, and her 2013 Eurofest entry Rhythm Of Love, the one she won the national selection with, which led her to represent her country at the 2013 Eurovision Song Contest.
Alyona says that the recording of this album has been a great experience for her because she has been able to take part in the creation of all the songs and not just sing them.
The track list of Solayoh is as follows:
1. Solayoh
2. Don't say sorry
3. Edge of the world
4. Enough
5. You're the lucky one
6. Ménage à trois
7. Paper aeroplanes
8. Speak
9. The wait is over
10. With you
11. Rainbow
12. Rhythm of love
13. I'm living in a sin
14. All my life
15. Lady Madonna
16. Solayoh (Promostella club mix)
17. Solayoh (Soul piano remix by BG Bastards)
18. Solayoh (Philip D mix)
19. Solayoh (Karaoke version)
Below you can watch our 3D video of Alyona Lanskaya's appearance at this year's Eurovision Song Contest where she ranked in sixteenth place in the final. If you don't yet have the suitable equipment this can easily be turned off in the player for regular 2D viewing.
You might also like to read:
Links