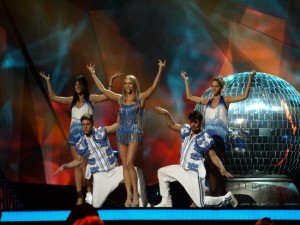 Belarussian broadcaster announced changes in the selection process, the main one being that, among all the candidates, an expert committee will select fifteen of them internally and they will perform directly in the final which means that there won't be a semi-final round.
The Belarusian broadcaster, BTRC, has announced that their entry for the 2014 Eurovision Song Contest will be chosen in a national final to be held in early January. The exact date is still to be confirmed.
The national selection will consist only of one televised show, the big final, thus eliminating the preliminary phase of the semi-finals. Fifteen acts will be taking part at this year's national final and the winner, who will represent Belarus at the 2014 Eurovision Song Contest in Copenhagen, will be chosen by a combination of a professional jury and televoting.
It has also been officially announced that the song submission period for artists and composers whose deadline is November 24th, has been opened.
Belarus made it to the final for the third time in 2013, achieving their second best result to date with the song Solayoh performed by Alyona Lanskaya. You can watch her performance in our 3D video below. If you don't yet have the suitable equipment this can easily be turned off in the player for regular 2D viewing.
You might also want to read: