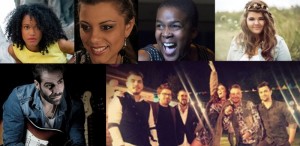 Yesterday the Expert check took place in the SRF studios in Zürich. Eighteen hopefuls who had been previously chosen by the different Swiss broadcasters performed in front of a jury and only six of them advanced to the big final Die Große Entscheidungsshow 2015 to be held on the 31st of January.
The nine qualifiers from the SRF/RTR online platform together with the six acts who had been internally selected by RTS and the three artists picked by RSI performed their potential Eurovision entries in front of an expert panel who evaluated their vocal skills and stage presence. The Expert Check show was broadcast live on SRF's website and it was hosted by Clarissa Tami.
The jury was composed of choreographer Rafael Antonio, vocal coach Freda Goodlett, director of strategic marketing at Universal Moritz Faccin (SRF), Option Musique radio director Catherine Colombara (RTS) and musician Nicola Locarnini (RSI).
The final will feature three artists from the German broadcaster SRF, two from the French network RTS and one from the Italian RSI.
The six acts chosen to proceed to the Swiss national final are as follows:
• Licia Chery – Fly (RTS)
• Mélanie René – Time To Shine (RTS)
• Deborah Bough – Take Me Back To 23 (RSI)
• Andy McSean – Hey Now (SRF)
• Timebelle – Singing About Love (SRF)
• Tiziana – Only Human (SRF)
The final will be held on the 31st of January at the Bodensee Arena in Kreuzlingen where these six acts will fight for the Swiss ticket to Vienna. They will perform both their potential Eurovision entry and a cover song.
You can check out all the songs on the SRF website and in the videos below.
You might also like to read: