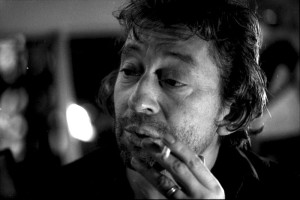 Serge Gainsbourg was considered the enfant terrible of the french music scene because of his scandalous behaviour and bohemian lifestyle. His lifestyle and behaviour, his connections to various women attracted much criticism as did his apparent manipulation of France Gall following her victory for Luxemburg in 1965.
Upon his death in 1991, Serge Gainsbourg left behind an extraordinary legacy within french music. The man and his music is difficult to define per se, as his work straddled a huge spectre of music genres, including adult contemporary, jazz, funk, reggae, rock, pop, electronica and new wave. In Eurovision circles he is best known as the man behind the Luxemburg victory from 1965, when young France Gall won over the hearts of Europe with Poupée De Cire, Poupée de Son. His collaboration with the artist turned sour when he almost wrecked her career with the follow up single, Les Succettes, heavily laden with sexual innuendo caused great controversy in France. Gall on her part was initially unaware of the song's undertones.
More scandal followed the notorious womaniser as he was linked to the likes of Brigitte Bardot, not to mention his romance with much younger British singer Jane Birkin and their scandalous single from 1969, Je T'aime …Moi Non Plus which was banned in numerous countries. Gainsbourg also went on to write Monaco's 1969 entry Boum Badaboum sung by Minouche Barelli, coming in fifth, as well as giving France a second placing at the 1990 Eurovision Song Contest in the form of Joëlle Ursull and her classic White & Black Blues. 
Gainsbourg has continued to be revered by many after his death and even now, personal effects and belongings of the star fetch huge sums at auction. An upcoming auction to be held at Sotheby's in Paris in November includes two sheets of paper with lyrics to one of his songs written by Gainsbourg himself expected to fetch between EUR 12-18,000. Other effects to be auctioned off include the his military jacket as worn in the film Je T'aime…Moi Non Plus from 1976, expected to raise EUR 5,000-7,000 and a 500 franc note which was torn and signed by the artist himself expected to fetch as much as EUR 15,000-20,000. That's some achievement for a star who died over 20 years ago and just goes to show that he still enjoys enormous popularity.