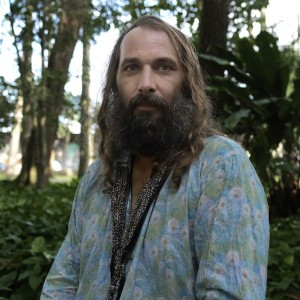 French singer, songwriter and multi-instrumentalist Sébastien Tellier will release his self-produced sixth studio album L'Aventura on the 26th of May. Among the songs of this ambitious project we can find a great variety of sounds including samba, disco or synth-pop mixed with Brazilian tones.
Sébastien Tellier, the eccentric and hugely talented artist who represented France at the 2008 Eurovision Song Contest with the song Divine returns. Following albums where he embraced controversial issues such as politics, sex or faith, this new work has a different concept, not so polemical, where he tries to explain many sensations about Brazil. The artist himself stated that he is not a specialist and he said that probably what he knows the best about Brazil are Caipirinhas but definitely that country has inspired him to create this extraordinary new album.
When asked about this album Tellier says that he wanted to reinvent his childhood and the inspiration came from Brazil, a place that he describes as "a land of splendour and joy, a country with an eternal childlike soul". According to Tellier, "Brazilian music is perfect as it is full of mysterious chords and strange melodies". He is so proud of this album that he even dared to say that he feels that his previous albums "were just tests to reach this point".
L'Aventura, which adds some Brazilian melodies to Tellier's unique sound, was recorded in Rio de Janeiro and Paris last year. It features collaborations with two celebrated French artists such as Jean-Michel Jarre and Philippe Zdar as well as the Brazilian Arthur Verocai who is a recognized musician in the carioca music scene. He arranged all the album's strings, some of the backing vocals, and helped secured the collaboration of one of Rio's best percussionists Robertinho Silva.
The lyrics of the songs are mostly in French but with some phrases in the English and Italian languages and among the tracks of the album we can find a wide range of topics such as a song which is a tribute to the sun called Sous Les Rayons Du Soleil (Under The Sun's Rays), or the autobiographical Ricky L'Adolescent which imagines a grown-up Tellier meeting his younger self.
Tellier considers that the last track of the album, L'Enfant Vert (The Green Child), is "the real meaning of the record". He says that, after singing so much about Brazil, it was like he almost believed that he spent his childhood there "a perfect, super-shiny childhood. But it's important to explain the reality, that this is not real".
The album's full track listing is as follows:
1. Love
2. Sous Les Rayons Du Soleil
3. Ma Calypso
4. L'Adulte
5. Rick L'Adolescent
6. Aller Vers Le Soleil
7. Comment Revoir Oursinet?
8. L'Amour Carnaval
9. Ambience Rio
10. L'Enfant Vert
The first single to be taken from L'Aventura is a bossa themed song called L'Adulte. You can watch the official video below where you will also find the link to purchase the album.
You might also like to read: