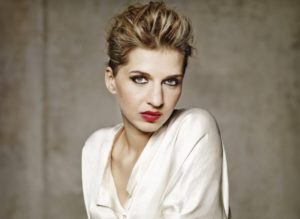 Amandine Bourgeois is back with her third studio album where she has recorded 16 covers of classic French songs which have been made popular by men. She has adapted all these songs with her musical style and influences from bossa nova to reggae, pop or rumba and the result is very surprising.
After two original albums, 20m² (2009) and Sans Amour, Mon Amour (2012), and representing her country at the 2013 Eurovision Song Contest with the song L'Enfer Et Moi, Amandine Bourgeois faces the challenge of releasing an album consisting of cover songs.
Au Masculin is the title of this album which is entirely made of covers, her own renditions of some of the songs she grew up with and that have marked her life. It includes sixteen tracks and collects her versions of songs which have been originally performed by male artists like Serge Gainsbourg's L'Eau À La Bouche, Michel Jonasz's J'Veux Pas Que Tu T'En Ailles, Stromae's Alors On Danse or La Ballade De Jim by Alain Souchon.
The album has been recorded and produced in cooperation with Quentin Bachelet who composed the 2011 French Eurovision entry Sognu.
The full track listing of Au Masculin is as follows:
1 – La ballade de Jim
2 – Savoir aimer
3 – Ma gueule
4 – Il est cinq heures Paris s'éveille feat. Cali
5 – Love me, please love me
6 – Dansez sur moi
7 – Je t'aimais, je t'aime et je t'aimerai
8 – Alors on danse
9 – Interlude Au masculin
10 – Madame rêve
11 – La rua madureira
12 – Utile
13 – Parler d'amour
14 – L'eau à la bouche
15 – Mona Lisa Klaxon feat. Beverly Jo Scott
16- J'veux pas que tu t'en ailles
The first single is a delicate version of Johnny Hallyday's song from 1979 Ma Gueule which has nothing to do with the original one. You can watch the official videoclip below where you will also find a link to purchase the album.
You might also like to read: