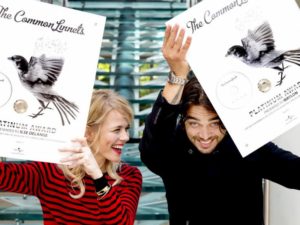 When returning home from the 2014 Eurovision Song Contest in Copenhagen, The Common Linnets were celebrated with style for their second place. They also received a gold record – and now that has been swapped for a platinum one. 
The Dutch have been struggling at the Eurovision Song Contest recently with not qualifying for the final at any time in the period from 2005 to 2012. It was therefore hard for them to believe in it when bookmakers, press and fans started seeing them as a potential winner this year – and where many in their shoes would be disappointed with not winning, they celebrate their second place as others celebrate a victory. 
Calm After The Storm made it to the top of the single chart, and now the album from The Common Linnets are also topping the Album Top 100. They earned themselves a gold record for 25.000 sold editions as they returned home from Copenhagen, Denmark – and now they have gotten a platinum one for a total of 50.000 sold albums. 
The Common Linnets consists of Ilse de Lange and Waylon, two succeful artists with each their career. Time will tell if this sucess will keep the duo together or if they as planned will go each their way now.
You might also like to read:
Below you can see The Common Linnets perform their entry Calm After The Storm at the 2014 Eurovision Song Contest: