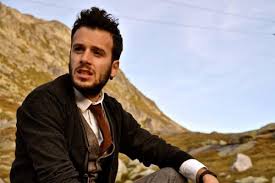 Sebalter will represent Switzerland in the second semi-final of the 2014 Eurovision Song Contest. Sebalter won Die Grosse Entscheidungsshow 2014 with the song Hunter of Stars.
Sebalter will fly the Swiss flag in Copenhagen on 8th May after a victory in the Swiss national final which took place in Bodensee Arena in Kreuzlingen. In the forthcoming Eurovision Song Contest, he will sing the song Hunter of Stars after battling with another five acts.
The songs
1. Christian Tschanz – Au Paradis (In Paradise) (T & M: Christian Tschanz) 
Christian Tschanz was the first artist to go on stage with his soft-rock ballad. While singing he was also playing the guitar and was accompanied by a band, including a string player. His voice was a bit raspy with a lot of colour changing in the background screens.
2. 3ForAll – Together Forever (T & M: Domenico Livrano, Ricardo Sanz, Lars van Everdingen, Rick Laine) 
The trio 3ForAll were full of energy on stage with an uptempo song that made the audience in the arena dance. The trio were accompanied by two percussion players. Their vocal performance was average but they seemed to enjoy every minute of their presentation on stage. 
3. Nino Colonna – La Luce Del Cuore (The Light of the Heart) (T & M: Nino Colonna)  
Nino Colonna sang a sweet happy moving song while clad in a dark black suit accompanied by four backing vocals and a guitar player. At the begining of the song, Nino connected well with the steady camera while in the end he offered a red rose to a woman in the audience. 
4. Yasmina Hunzinger – I Still Believe (T & M: Marin Suasic, Sven Welter) 
Yasmina was next to go on stage adorned in a long black dress with some design. She was accompanied by a guitarist, a drummer and 3 backing vocalists. She sang a strong ballad and her voice was very solid. At the end fireworks came down to make it an exceptional performance.
5. Natacha & Stéphanie – Une Terre Sans Vous (A World without you) (T & M: Alizé Oswald, Xavier Michel)  
It was time for the fifth act with Natacha and Stéphanie who sang a ballad in French. The girls wore a white dress and presented a simple performance. Their voices combined well together but there was nothing so special happening on stage.
6. Sebalter – Hunter of Stars (T & M: Sebastiano Paulessi) 
The last competing act of the night was the cool folk song performed by Sebalter. His voice was very good and the whistling in the song came out well. He also played a short burst of fiddle by the violin in the middle of the song. Fireworks were used in this act to make it memorable. 
The show
Die Grosse Entscheidungsshow 2014 was hosted by Sven Epiney who is also the Swiss commentator for the Eurovision Song Contest. The six acts did not only perform their competing entry but they sang a cover of a popular song. Last year's Eurovision winner Emmelie de Forest performed in the interval act.
The voting
Sebalter was selected through a 50/50% jury and public vote. In the end it was an exciting moment when Sebalter was announced as the winner. He was followed by Yasmine Hunzinger.
Switzerland debuted at the very first Eurovision Song Contest back in 1956 and won it with the song Refrain performed by Lys Assia. Switzerland also won the 1988 Eurovision Song Contest with Céline Dion's entry Ne partez pas sans moi.
Last year, Takasa competed in Malmö with their song You and me. Takasa received 41 points in the semi-final, ending in 13th place, thus didn't make it to the grand final.
Sebalter will quickly kick-off his promo-tour and will visit Malta next week to promote the 2014 Swiss entry during the Maltese national final.
You might also like to read:  
Watch the 2014 Swiss entry to take part in the next Eurovision Song Contest