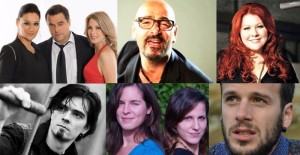 In the past two years Switzerland hasn't managed to reach the final. This year there are six acts in contention to put the country back on track. In total there were eighteen acts that had been shortlisted by the regional broadcasters. They all faced the jury panel that evaluated all the songs after listening to them performing live.
Six of the eighteen acts selected by three different Swiss broadcasters made it to the Swiss final scheduled for this coming Saturday. The artists faced the jury made up of music experts such as Rafael Antonio, Freda Goodlett, Moritz Faccin, Catherine Colombara, Emile Felber and Nicola Locarnini. These six experts evaluated both the vocal qualities of each artist and their live performance skills. After listening to all the candidates, they decided that the following six acts deserve a place at the Swiss national final Die Grosse Entscheidungsshow 2014.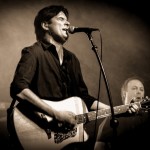 01. Christian Tschanz – Au Paradis (In Paradise) (T & M: Christian Tschanz)
Christian Tschanz from Avenches was was raised in Thun. The son of a butcher left his home county twenty years ago to study in French-speaking Switzerland and to complete an apprenticeship as a butcher. In 2010, the BPA (Office for the Prevention of Accidents) requested Christian Tschanz to compose and interpret a song as part of a national campaign for children. Christian released a number of albums but the one from 2012 entitled Aventicum is his most popular and versatile.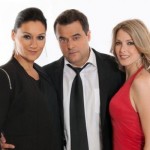 02. 3ForAll – Together Forever (T & M: Domenico Livrano, Ricardo Sanz, Lars van Everdingen, Rick Laine)
The trio is composed of Gisel de Marco, Iris Moné and Ricardo Sanz. Gisel de Marco (32), Argentinian born, arrived in Switzerland over three years ago. An album of hers is already on the market. Having been a huge success on The Voice of Switzerland, she has already acquired a huge following of loyal fans. Vocal coach Iris, from Tessin, knew since childhood that her heart belonged to the music and entertainment industry. The finalist from the first Series of The Voice of Switzerland reached third place. Ricardo Sanz (45) is a singer/songwriter and producer from Lucerne. He has been in the music business for over twenty-five years. He is now concentrating on his own remarkable abilities and has an album in the pipeline.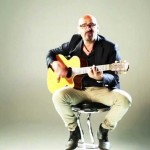 03. Nino Colonna – La Luce Del Cuore (The Light of the Heart) (T & M: Nino Colonna)  
Nino Colonna is a Swiss artist with strong Italian roots. In fact many of his songs are performed in Italian. Nino's love of music came early. At 14 he wrote his first songs and participated in talent competitions with success. In 1984 he was invited to the programme Carousel. The singer has spent his whole life in Bern however for him the Italian language is the most beautiful in the world. His musical influences are Eros Ramazzotti and Laura Pausini.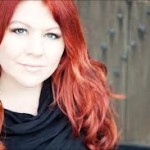 04. Yasmina Hunzinger – I Still Believe (T & M: Marin Suasic, Sven Welter)
Yasmina Hunzinger was born in Switzerland in 1977. Her mother is Swiss, her father German. She was introduced early on to music through her mother. Prior to her classical vocal training she gave her the first singing lessons. At the age of thirteen, Yasmina Hunzinger became a member of an  acappella ensemble. In 2001, she then moved to Germany to work as a freelance artist. In July 2008 she won the international competition Çeşme Song Contest in Turkey with the song When you believe. Yasmina Hunzinger is currently living in Cologne. Besides her work as a singer, she works as a songwriter and vocal coach.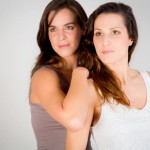 05. Natacha & Stéphanie – Une Terre Sans Vous (A World without you) (T & M: Alizé Oswald, Xavier Michel) 
Natacha and Stéphanie joined forces specifically to try and represent Switzerland in the forthcoming Eurovision Song Contest. The two share a common passion in music. They both travel a lot but are currently based in Geneva. Natacha won the French show Star Seed while Stéphanie, expresses herself in various forms of art including singing, theatre and dance. Their encounter in 2013 with Xavier Michel as part of a casting show enabled them to embark on a new adventure.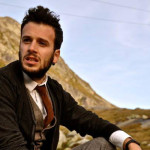 06. Sebalter – Hunter of Stars (T & M: Sebastiano Paulessi)
Born in Giubiasco in 1985 as Sebastiano Paù-Lessi he spent ten years performing in a folk group. In fact from from 2002 to 2012 Sebalter was the fiddler for a folk rock band based in Southern Switzerland. He then left the band in 2012, and continued a solo career playing mostly acoustic folk inspired music. As part of that musical ensemble he has received several renowned awards, including winner of the festival Palco Ai Giovani in 2003.  There's no doubt that his past repertoire with his folk group greatly influenced his discography in his solo career.
 You might also like to read: