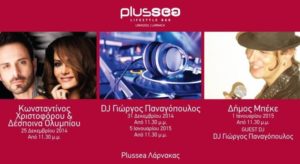 A scandal in Cyprus has gotten its take in the social media and various websites. Despina Olimpiou, one of the jury members in Eurovision Song Project appeared professional in a live stage performance together with Konstantinos Christoforou, one of the composers in the national selection. Something that is against the rules of the contest.
Christmas night in a live stage in Larnaka was where a performance between Despina Olimpiou and Konstantinos Christoforou took place. It was made known to the public via the commercial fotos the two singers posted on their social media profiles. Naturally this roused a storm of reactions. The selection process for the cypriot song in this year's Eurovision is still ongoing. It is known that the final six have already been selected by the jury, but the final of the Eurovision Song Project will be on the 1st of February. The song will be chosen by the vote of the jury (50%) and by televoting (50%). So Despina Olimpiou has not completed her duties as a member of the jury and for this reason, she should avoid to cooperate professionaly with any of the contestants (singers, composers, lyricists).
Already many people in Cyprus supports the replacement of Despina Olympiou in the jury at the final night or even the withdrawal of Konstantinos Christoforou song (Magic sung by his brother Doody), as the above described cooperation is in direct contrast to the terms of contract the participants and the judges signed in the begining of the Eurovision Song Project:
"Members of the jury can not participate in competition as composers, lyricists, arrangers and performers or a related, professional or other relationship with participants and will be required to sign a declaration before the holding of the first selection phase. At the end of the first phase the jury members will be asked to confirm and sign the original affiemation"
An official answer from CyBc is still awaiting.
You might also like to read: