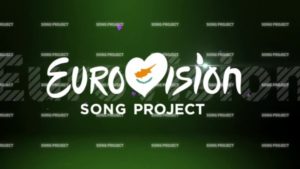 The Eurovision Song Project is the TV show put together by Cypriot broadcaster CyBC for the selection of the county's Eurovision entry for Vienna. The show kicked off on Sunday with the first instalment of the preliminary auditions round of the Cypriot selection, achieving high TV ratings.
As reported
back in July, the CyBC decided to embark on an ambitious national selection
format for 2015. The Eurovision Song Project consists of three phases spread
over 10 shows. During the pre-recorded first episode of the initial 'Auditions'
phase, 9 entrants performed in front of show judges Alex Panayi (Cyprus 1995
& 2000), Despoina Olympiou (Cyprus 2013), Elena Patroclou (Cyprus 1991) and
radio producer Tasos Tryfonos. Each entrant was shown performing a cover
version of a past Eurovision song as well as part of their entry song. To
qualify to the next 'Eurochallenge' phase, each contestant had to receive at
least three 'yes' replies from the judges. The four qualifiers were as follows:
Eva Diva with
Come and Fight for Freedom (music: Henrik Bie, lyrics: Magnus Josefsson,
Mattias Olsson, Eva Kyriacou)

London born
Eva sang a cover of Helena Paparizou's My Number One (Greece 2005, 1st
place) and got four 'yes' replies.

Emily
Charalambous and Right In (music/lyrics: Andreas Anastasiou, Sara Ljunggren,
Jonas Gladnikoff, Zinon Zintilis)

Emily's
cover version was Alyosha's Sweet People (Ukraine 2010, 10th place);
the singer, a former finalist of The Voice Greece, also got four 'yes' replies.

Charalambos
"Luna" Iosif and I Wanna Dance (I Say Tempo) (music/lyrics: Charalambos "Luna"
Iosif)

Charalambos
gave a rendition of Johnny Logan's Hold Me Now (Ireland 1987, 1st place)
and got a 'yes' reply from all judges apart from Alex Panayi.

Maria
Evangelou and Still (music/lyrics: Layla Kay Lif, Maria Louiza Evangelou)

Maria chose
Imaani's Where Are You? (United Kingdom 1998, 2nd place) as her
cover rendition and received a 'yes' from all judges apart from Tasos Tryfonos. 
This first
edition of the show received mixed reviews in particular with respect to the
quality of the competing songs. However, it was quite refreshing to see that
the judges, while being polite and constructive in their criticism, did not
mince their words with the contestants. More importantly, the Eurovision Song Project managed to reclaim a considerable share of televiewers for CyBC; in recent weeks, the Cypriot broadcaster's Sunday Primetime ratings had suffered from
competition with celebrity talent shows such as DanSing For You and the Greek
version of Dancing With The Stars.
The
Eurovision Song Project continues next Sunday, 14th December, at 20:00
CET and will be streamed live here.
You might also wish to read: