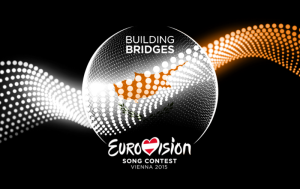 Eurovision Song Project is the procedure through which the mediteranean island Cyprus will choose their song for the Eurovision 2015 in Vienna. Eight more artists competed yesterday for the quallification to the next round, the Eurochallenge 1.
The show started with a recap of the 4 songs that quallified last week. After that we saw again the four judges Despina Olympiou (2013), Alex Panayis (1995, 2000), Helena Patroklou (1991) and Tasos Tryphonos all of them connected with the Eurovision Song Contest. Andri Karandoni was the presenter of the show.
The participants:  
Christina Tselepou and In these arms (music/lyrics: Andreas Georgallis,  Peter Svensson, Eric Anjou)
Christina competed in last year tv music show "Your Song". Christina's cover song was Waterloo (Sweden 1974-1st             place). Her sweet ballad got four "yes" and it seems that we have the first serious contestant here. QUALLIFIED
Valence and Scared (music/lyrics: Valence)
Valence comes from Australia and chose the irish entry of 2013 for his cover, Only Love Survives (26th place). Although he received bad comments for his voice, he gained one more chance as he got four "yes". QUALLIFIED
Iosif Charalambous-Luna and Call for me (music/lyrics: Luna)
Iosif competed and last week and managed to quallify, he sang again Hold me now of Johny Logan (Ireland 1st place) but he wasn't so lucky this time, as he didn't excite the jury and didn't get any "yes".
Lady Ava and until the end of time (music/lyrics: Martech) 
Lady Ava's cover version was the UK song of 1988 Go (2nd place). The singer also didn't get any "yes" .
Pieros Kezou and Said it all before (music/lyrics: Pieros Kezou, Staffan Stavert)
Pieros was second in the cypriot national final of 2009.He chose Cliff Richard's Power To All Our Friends (3rd place)as a cover song. Pieros with his professional voice got four "yes". QUALLIFIED
Kostas Arhontous and Steko akoma (music/lyrics: Kostas Arhontous)
Kostas gave a rendition of Johny Logan's Hold me now (Ireland 1987-1st place). He got "yes" only from Despina Olympiou.
Maria Moskofian,Christiana Xatziiordanous and Sailing Ships Pirates and Dragons (music/lyrics:Giorgos Moisi)
The first duet in the contest sang Is It True (iceland 2009-2nd place) as their cover rendition and receiced fou"yes". QUALLIFIED 
Ioanna Protopappa and Beat of my Heart (music/lyrics:John Themis, Ioanna Protopappa, Katerina Themistocleous)
Ioanna sang an old entry of her composer, Touch My Fire (UK 2005 22nd place) and despite the fact that her entry took average comments, it got three "yes", only missing from Tasos Tryphonos. QUALLIFIED  
After the first episode of the show, and the bad comments the songs received in all social media, this time the candidate songs were of a higher level. Next Sunday 21th of December at 20.30 CET the Eurovision Song Project continues with the third episode of the auditions and will be streamed live here. 
Links
the link for the live streaming of the show
In my view
I don't think we have seen the winner yet. Of course there 38 songs more to hear and we have to wait the veterans of the competition. Konstantinos Christoforou (1996,2001,2005) composes a song for his brother Doody, Mike Connaris the man who brought the 5th place in 2004 for Cyprus also submitted a song and finally Nassos Lambrianidis the man who brought Cyprus back in the final in 2010 when noone expected it, composed a song for a last year contestand of The Voice of Greece Panagiotis Koufogiannis, of course one does not exclude another suprise out of nowhere, it is certain that the continue will be interesting.

The opinion expressed in "In my view" are those of the author and are not necessarily the one of EuroVisionary.com.