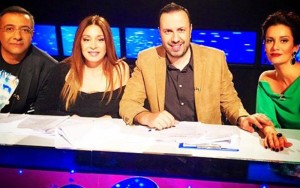 The third round of auditions in Eurovision Song Project, the method chosen by CyBC in order to select the cypriot song for the upcoming Eurovision Song Contest in Vienna was held tonight with ten more songs.
The four judges of the show (Alex Panayi, Despina Olympiou, Tasos Tryfonos and Helena Patroklou) had the chance to hear ten more songs tonight in the third episode of the cypriot Eurovision marathon. The results were as follows:
Helena Iracleous and Dawn (music/lyrics: Helena Iracleous)
Helena comes form Germany, she has already participated in this year The Voice of Germany reaching the blind auditions. She gave a rendition of Germany's winning song in 1982 Ein Biβchen Frieden for her introduction. With her powerful voice gained four "yes". QUALLIFIED
Eleonora with Heaven On Earth (music/lyrics: Michalis Rousos, John Vickers)
Eleonora's cover version was Only Teardrops (Denmark 2013, 1st place). She got only two "yes" for her song from Despina Olimpiou and Helena Patroclou.
Anastasia Liberos with Unicorn (music/lyrics: Giorgos Kalpakidis, Ylva Persson, Linda Persson, Michalis Antoniou)
Anastasis comes from UK and she chose Lisa Andrea's song Stronger Every Minute (Cyprus 2004, 5th place). Anastasia had a very strong voice, but unfortunately got only two "yes" from Despina Olympiou and Tassos Tryfonos, meaning that she didn't quallify.
Doody with Magic (music/lyrics: Konstantinos Christoforou, Zinon Zintilis)
Doody's cover version was Euphoria (Sweden 2012, 1st place). Doody is brother of Konstantinos Christoforou (Cyprus 1996, 2002 and 2005). This time Konstantinos participates again as a composer. His song got four "yes". As this was the big favourite it made it through, but will it be able to live up to its title in the future? QUALLIFIED
 Euagoras Euagorou with Chorevo Mambo (music/lyrics: Panagiotis Damaschis, Thessalia Tapakoudi)
Evagoras sang Fairytale (Norway 2009, 1st place) as his cover. He was third in the cypriot National Final in 2006. This time despite the fact the his song was composed by a very famous greec musician Panagiotis Damaschis, got only two "yes" from Tasos Tryfonos and Alex Panayi and didn't quallify, which some might consider a bit unfair.
Charis Sava and Nearchos Evagelou with Dila den s'agapo (music/lyrics: Nearchos Evagelou)
The second duet in the contest gave a rendition of Denmark's 2010 entry; In A Moment Like This (4th place). They got great comments from the jury and it seems we have here another strong contestant. Time will tell if Charis after participating in Junior Eurovision in 2008 will take part in the senior edition 2015. QUALLIFIED
Christina Papaioannou with You can't Stop Love (music/lyrics: Marios Anastasiou, Luke Girvan, Stepohen Ruden)
Christina sang a cover of Is it true (Iceland 2009, 2nd place). Christina had a song which didn't appeal to any of the judges and didn't get any "yes"
Lady Ava with The Key is Love (music/lyrics: Lady Ava)
Lady Ava chose Israel's 2014 entry The Same Heart (14th place in the semi). Second try of Lady Ava also failed as her first with no "yes".
Stalo Patsia with My Aura is Bright (music/lyrics: Marios Christoforou, Stefanos Charalambous)
Stalo's cover song was the greek eurovision hit Anixi (Greece 1991, 13th place). Stalo got very bad  criticism and got no "yes"
Christos Rialas with Meine (music/lyrics: Nikolas Mavresis, Salina)
Christos was the winner of  Your Song a cypriot talent show. He chose the greek entry of 2011(7th place); Watch My Dance as his cover. He didn't get good comments for his song, but yet his voice managed to convince all the judges. QUALLIFIED.
Eurovision Song Project continues on 28th of December at CyBC with the next episode of the auditions. You can watch live the next episode at 20.05 CET here. 
Links
Cyprus 2015: Second heat of Eurovision Song Project
Cyprus 2015: First Eurovisions Song Project quallifiers
In my view
Cypriot fans are worried cause until now none of the songs convince them that can bring their country back to the final of the Eurovision Song Contest. The only thing for sure is that we have only 28 songs more to hear, and hopes for something good in this year's contest have significantly been reduced.

The opinion expressed in "In my view" are those of the author and are not necessarily the one of EuroVisionary.com.