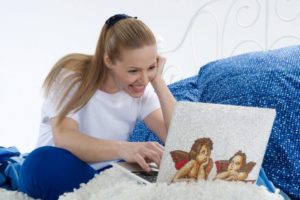 After San Marino had been given a deadline until this Friday to present a change of lyrics or an entirely different song, which is not breaking EBU's rules, the broadcaster has announced that they will have a new song presentation Thursday evening.  
As the full story has been read on EuroVisionary before, San Marino presented its entry for the 2012 Eurovision Song Contest last friday: The song was titled Facebook Uh Oh Oh. Just after the song presentation we were aware of the certain EBU rule, 1.2.2.g "No commercial messages of any kind shall be allowed" that the Broadcasting Union would not accept the song, which turned out to be the case. Therefore a new deadline was set by EBU as Friday, at 12.00 CET.
Later, Sanmarinnese broadcaster SMR TV decided to have another song presentation show, which will be held on Thursday evening, 22.00 CET and the show will be broadcasted live by SMR TV. It is certain that this small country will stick to the same representative, Valentina Monetta, but it is yet to be found out if they will come up with a different song or the same one, just with new lyrics. At the moment it looks like we will get a new song however.
For the full story you might also want to read:
Valentina will sing Facebook Uh, Oh, Oh for San Marino…and Ralph Siegel is back!
Is San Marino breaking EBU's rules – Is Facebook a commercial brand?
San Marino get deadline until 22nd of March to come with a new song or change of lyrics
Below you can watch the disqualified entry, Facebook Uh Oh Oh: