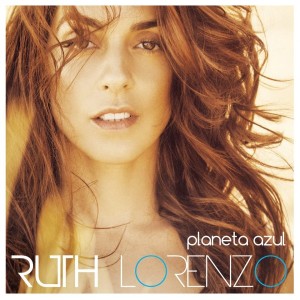 Everything is ready for the release of Planeta Azul (Blue Planet), the hotly anticipated debut album from Ruth Lorenzo which is scheduled for tomorrow. She has been working on this album for five years and all the songs have been written by Ruth herself.
It has been a very difficult journey for Ruth Lorenzo who, despite having wowed audiences on The X Factor in the United Kingdom and worked alongside some of the biggest names in pop music, was a stranger in her home country. But thanks to her magnificent performance at the 2014 Eurovision Song Contest she has finally got what she wanted. She has received the warmth and acknowledgement of the Spanish public and now she releases her first studio album with songs that she has been writing over the past five years. She describes this album as "the story of my life summed up in thirteen songs".
Gigantes, which means Giants, is the first single from Planeta Azul and it is a pop-dance song written by Ruth herself and produced in Stockholm by Chris Whale. Ruth says that it is "a song with a lot of energy that combines very Spanish rhythms and melodies with international sounds". It was released a few weeks ago and went straight to the top of the Spanish charts. In its official video, which has just been released, Ruth brings out her inner acrobat with fabric swinging, runs through the desert in search of her lover and performs a highly choreographed dance. The video has been directed by Paloma Zapata and the choreography has been created by Miryam Benedited (both of them were also in charge of the official video of her Eurovision entry Dancing In The Rain).
This week Ruth has also presented two new songs from the album, Renuncio and the album's title track, Planeta Azul. Renuncio is a mid-tempo pop song that speaks about teenage love and it is built on a toe-tapping drum beat as she agonizes over the loss of her one true love. Meanwhile, Planeta Azul is an upbeat jazzy song with an ethnic touch and a positive and spiritual message concerning the significance of life or existence.
The album is scheduled to be released on the 28th of October via Roster Music and the track listing is as follows:
1. Planeta Azul
2. Gigantes
3. Noche En Blanco
4. Parar El Tiempo
5. Renuncio
6. Rey De Corazones (with Miguel Poveda)
7. Vulnerable
8. 1, 2, 3
9. Inevitable
10. Patito Feo
11. Flamingos
12. Eva
13. Te veo
14. Dancing In The Rain
15. Renuncio (acoustic version)
16. Gigantes (acoustic version)
These days she is signing physical copies of her album in several Spanish cities such as Murcia (her hometown), Madrid, Barcelona, Alicante or Castellón.
Below you can watch the official video of Gigantes and the lyrics videos of Renuncio and Planeta Azul.
You might also like to read: