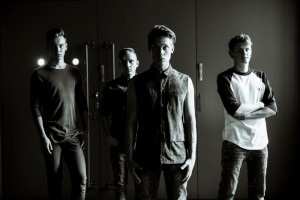 Softengine, the young rock band that represented Finland at the 2014 Eurovision Song Contest, will release their debut album, We Created The World, on the 17th of October. This album will definitely take the band to a whole new level, musically, song wise and in terms of production.
With this new album the Finish rock band Softengine continues from where it left with its acclaimed Eurovision entry Something Better but we could say they have discovered the melodic approach to hard rock.
Regarding the band members, one of them is missing from the five we saw at the Eurovision Song Contest. A few weeks ago the band announced the departure of their bassist, Eero Keskinen, in order to be able to concentrate on his career as a lighting technician. So, Softengine will continue on as a four-piece with Topi Latukka (vocals and guitar), Ossi Mäkelä (guitar and keyboards), Henri Oskár (keyboards, piano and percussion) and Tuomo Alarinta (drums).
They are young and full of energy and their style is influenced by electronic dance music, indie and alternative rock. Their long-awaited debut album has an ambitious title, We Created The World, and it is packed with eleven potential hits and full of well-crafted melodic rock tunes that will be stuck in your head.
Softengine's main singer, Topi Latukka, describes We Created The World saying this: "the album has a lot of surprising elements. We have tried to do things that you don't normally hear in rock music. There are many interesting arrangements, epic sounds and versatile songs. We just try to give the music all we've got, without any boundaries or limitations. It is best that you check it out yourself!"
The album will feature the band's Eurovision entry Something Better, their latest singles Yellow House and The Sirens and eight brand new songs. The track listing is as follows:
1. Our New Age
2. Broken Reflection
3. Yellow House
4. Phone Call from Unknown
5. The Sirens
6. What if I?
7. Narcissus
8. Something Better
9. In Disarray
10. Circle
11. Our Life, Our Love
In the video below you can listen to their latest single, The Sirens. It starts as melodic tune, quite different from the other tracks we have already heard to from them, but the end of the song is pretty surprising since it combines elements of atmospheric electronica with dance music creating a unique musical experience.
You will find a link to purchase the album below.
You might also like to read: