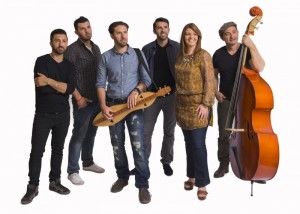 The Maltese representative at the 2014 Eurovision Song Contest, Firelight, has just released their debut album called Bakdrop Of Life. It contains eleven brand new songs and all the members of the band have been fully involved in the making of each track.
Since the folk band Firelight won the Maltese national final back in February, they had to be fully focused on preparing their Eurovision performance and that meant they had to stop working on what would be their debut album whose release date therefore was delayed. But, once their Eurovision experience was over, they went back to the studio and have been taking care of even the smallest details of the eleven songs which are included in this album.
Bakdrop Of Life is full of original compositions with a great stylistic variety, all of them very rich in melody and harmony. Each song tells a heartfelt story that is different from the next, yet they all connect pretty well.
About this album, the band members state that "there will be times when we will stamp our feet to the beat and times when we will be slowly explaining our personal stories in the form of melody and tune".
The track listing is as follows:
01. Coming Home
02. Her Song
03. Bite The Bullet
04. Black & Blue
05. Talk Dirty
06. Victor
07. Diesel
08. A Hole Joe
09. Nobody But You
10. Busking For Your Love
11. Backdrop Of Life
After the release of this album, the band has started a promotional tour in Germany and Austria.
Firelight achieved the 23rd place in the grand final of the 2014 Eurovision Song Contest in Copenhagen with Coming Home. You can watch their performance in the video below where you will also find a link to purchase the album.