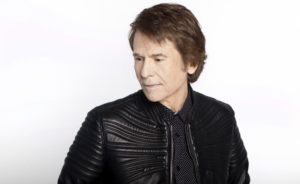 Raphael has a status close to that of a living legend being one of the most important artists in the Spanish music scene of all time. On this brand new album, he has re-recorded some of his classic hits giving an interesting twist to his most iconic songs.
Raphael has represented Spain twice at the Eurovision Song Contest. In 1966 he finished 7th on the scoreboard singing Yo Soy Aquél and one year later, in 1967, he finished 6th with Hablemos Del Amor.
He is now celebrating the 55th anniversary of his artistic career which has been full of success. He has released more than sixty albums and received numerous awards including 330 gold certifications, 50 platinum certifications and even a Uranium Disc for the massive worldwide sale of more than 50 million copies of his greatest hits album Ayer, Hoy, Siempre.
The title of this new album is De Amor & Desamor, which means About Love & Heartbreak, and it comprises a total of fifteen tracks that make up an amazing collection of classic songs that Raphael has re-recorded with the extraordinary sound of a symphonic orchestra. We could say that actually most of the songs are about heartbreak but all the tracks included in this album are like anthems, all-time hits that have helped to define the Spanish music as we know it today.
The album has been produced by Jacobo Calderón, Paco Salazar and Fernando Velázquez and under the supervision of Raphael's son, Manuel Martos. The track listing is as follows:
1. Provocación
2. Se Fue
3. Detenedla Ya
4. En Carne Viva
5. Se Me Va
6. Frente al Espejo
7. Qué Sabe Nadie
8. No Puedo Arrancarte de Mí
9. Será Mejor
10. Me Estoy Quedando Solo
11. Desde Aquel Día
12. Dile Que Vuelva
13. Amor Mío
14. Hay Momento de Amor
15. Ámame
In a press conference which was held a few days ago to promote this album, Raphael, who is now 71 years old, said that he is not thinking about retirement and, regarding his upcoming projects, he will start recording a new album soon which will include some songs written by young artists and he will be part of the cast of a movie. Furthermore, he will keep promoting this album in a tour around Spain that has already started and so far includes the following places:
From Oct. 9 to Oct. 11 – Gran Teatro Falla, Cádiz
From Oct. 15 to Oct. 19 – Teatro Cervantes, Málaga
From Oct. 23 to Oct. 25 – Auditorio Fibes, Sevilla
Oct. 31 – Palacio de Congresos, Granada
Nov. 8 – Palacio de Festivales, Santander
Nov. 14 – Kursaal, San Sebastián
Nov. 15 – Euskalduna Auditorium, Bilbao
Nov. 22 – Auditorio Víctor Villegas, Murcia
From Nov. 26 to Dic. 21 – Teatro Compac Gran Vía, Madrid
You will find a link to purchase the album below.