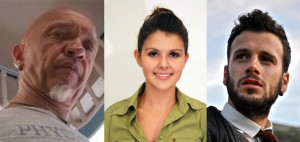 The Swiss Italian broadcaster RSI held an internal regional selection in order to select their three potential candidates who will try to get a place at the forthcoming Swiss Eurovision national final. The lucky ones are Valentino Alfano, Sebalter and Jasmine.
A special jury made up of Paolo Meneguzzi (who represented Switzerland at the 2008 Eurovision Song Contest), Ramona Cerutti and Igor Negrini met up in the headquarters of the Swiss Italian broadcaster RSI in Lugano to listen, evaluate and choose the three best candidates among the thirty entries that had been submitted for the regional selection. It was an intense afternoon for the three jurors who claimed to be very impressed with what they listened.
The three qualifiers are:
Valentino Alfano – 103 Parole
Sebalter – Hunter Of Stars
Jasmine – Higher Love
Valentino Alfano has an extensive musical career and he has mainly worked on songwriting for other artists. His song, 103 Parole which means 103 words, sounds like a classic Italian ballad and it really fits with his husky voice.
Sebalter, whose real name is Sebastiano Pau-Lessi, was born in Giubiasco in 1985. At the age of six he began playing violin and guitar and also started to take singing lessons. From 2002 to 2012 he was the leading violinist of the group called The Vad Vuc. As part of that musical ensemble he has received several renowned awards among which is the winner of the festival Palco Ai Giovani in 2003. His song, Hunter Of Stars has a country style quite energetic.
Jasmine Mossier was born in 1995 and she lives in Tenero. Music has always played a major role in her life and since she was a child she took lessons in classical guitar and singing. She later participated at several singing competitions having won the first edition of the talent show Fattore Voce. She enters the Swiss preselection with a pop-rock song titled Higher Love.
These three artists will proceed to the final auditions which are scheduled to take place in Zurich on the 30th of November where all the qualifiers from the different Swiss broadcasters will perform in front of a jury. From these, a total of three acts from SRF, two from RTS and one from RSI will make it to the live national final to be held in Kreuzlingen on the 1st of February where will be selected the Swiss representative at the 2014 Eurovision Song Contest.
You can listen to Valentino Alfano, Sebalter and Jasmine singing their candidate songs in the videos below.
You might also like to read: