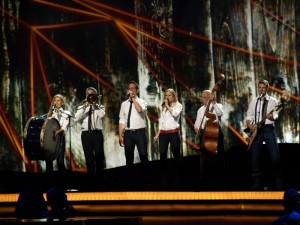 The Swiss selection for the 2014 Eurovision Song Contest is in full swing but the song submission period is different for each broadcaster. The deadline is near for RSI where the artists only have two days left to submit their songs, but on the same date SRF/RTR will begin accepting songs online.
The method to select the 2014 Swiss entry will be yet again via a national final like in previous years and it will take place on the 1st of February at the Bodensee Arena in Kreuzlingen, but before that it has been organized a long process of regional selections from each of the broadcasters.
The eighteen artists, which will be selected from these regional broadcasters will have to pass one more audition before becoming finalists and they must perform live in front of an expert committee who will evaluate them considering their singing skills along with their stage presence. Only six of them (three from SRF/RTR, two from RTS and the best from RSI) will get a ticket to compete at the national final where each of them will perform their Eurovision candidate entry and also a cover version of another song in order to showcase their talent to the Swiss audience. Finally, a 50/50 combination of televoting and the votes of an expert jury will decide the name of the Swiss artist that will represent the country at the 2014 Eurovision Song Contest to be held in Copenhagen.
RSI, the Swiss Italian broadcaster, was the first one to open the submission period for all those wishing to compete in their regional selection. Artists and composers can send their entries until September 30. Only seven acts will compete in the regional final, six of them selected by a special jury and one more song that will come from the winner of the talent show Fattore Voce 2013. The regional final will consist of a radio show where the Swiss Italian radio listeners will be able to vote for their favourites via televoting and the top three will proceed to the internal national semifinal.
The German-language and Rhaeto-Romanic broadcasters SRF and RTR have called for singers and songwriters to submit their songs through an online platform starting from the 30th of September and until the 28th of October. After the deadline, online voting will kick off inviting the internet users to vote for their favorite songs. A 50/50 vote of the internet users and music experts will pick the nine hopefuls that make it to the next round.
Furthermore, the French-language broadcaster RTS will pick six entries via an internal selection.
Last year, the group Takasa won the national final with the song You And Me and they represented Switzerland at the 2013 Eurovision Song Contest finishing 13th in the second semi final and failing to qualify for the big final. You can watch their performance in our 3D video below:

You might also want to read: