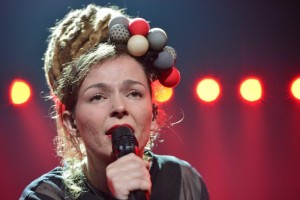 Albania have sent an entry to this year's contest full of drama and emotion, with an artist in possession of an amazing voice But has Rona Nishliu got what it takes to be counted amongst the winner candidates?
Rona's voice has attracted a lot of attention, making people reach for superlatives in order to describe its power. The first thing many journalists have said when they heard Rona's brilliant voice was quite simply "Wow".
She had clearly prepared very well even for rehearsal, and it felt like she was ready for the performance. Rona was in her stage outfit consisting of a black two piece and dreadlocks pinned up in a huge bun like hairstyle, adorned with decorations resembling small christmas tree decorations. Her superb voice mesmerized us with a very strong yet sensitive force. The people who don't know the translation of the song can easily understand what she wanted to express merely by listening to her amazing voice.
The background stage was a mixture of red spotlights at the beginning of the performance, evolving into an array of warmer colours as Rona aimed for the higher notes.The setting of the performance was minimalist, complementing Rona perfectly, so as not to detract attention from her soaring vocals.
Rona was nervous a little and her voice trembled sometimes but the rest of her performance was extremely well done. 
She is a candidate of being one of the best at the Eurovision song contest. Stay tuned for more information about her progress.