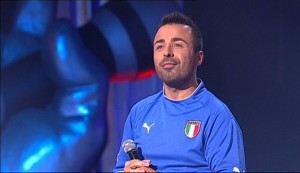 Roberto Meloni, who represented Latvia twice at the Eurovison Song Contest, has made it through the battle rounds after impressing the judges at the blind auditions in The Voice last month. Among the coaches is also a familiar face: Donny Montell, the Lithuanian Eurovision representative in 2012.
In 2007 Roberto Meloni joined the group Bonaparti.lv who represented Latvia at the Eurovision Song Contest with the ballad Questa Notte and in 2008 he participated and won for the second year in a row the Latvian Eurovision selection with the group Pirates Of The Sea. Now, he is participating at the second season of the singing talent show The Voice of Lithuania, also known as Lietuvos Balsas.
A few weeks ago the blind auditions began where all the candidates had to perform a song live in front of the coaches. For the occasion, Roberto sang Adele's hit Rolling In The Deep in order to draw the attention of any of the coaches and he not only showed his skills as a singer, but also as a show man. Arunas Valinskas and Inga Valinskiene pressed their red button for Roberto who won the hearts of coaches making an effort to speak a few words in the Lithuanian language and joke about his Italian roots.
Last weekend took place the battle round and Roberto had to compete against Dovydas Misiunas singing Waka Waka by Shakira. Their performance was really fun. The audience loved it and the judges were pretty impressed too. Roberto was victorious in the battle and is therefore qualified for the final phase of the programme to be held in the coming weeks.
This is not Roberto's first experience in a talent show since he participated in the Latvian version of Idols called Talantu Fabrika and he also took part in the Latvian version of Strictly Come Dancing in 2007.
Donny Montell, who was the Lithuanian representative at the 2012 Eurovision Song Contest with Love Is Blind, is one of the four coaches of the show.
You can watch Roberto Meloni's performances at The Voice of Lithuania in the videos below.
You might also like to read: