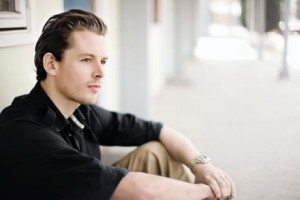 Few days after its release Rasmus Seebach's cover version of his dad's third and last Eurovision Song Contest entry Under Stjernerne På Himlen makes it to the Danish charts. With 107 weeks on the list so far his previous album is still among the best selling ones.   
It is not many who will find themselves fighting with one of their previous released albums on the charts, but that is happening to Rasmus Seebach, son of Tommy Seebach who represented Denmark at the Eurovision Song Contest three times. Last time was in 1993 with Under Stjernerne På Himlen. A cover version of that song is to be found on Rasmus' second album released just a few days ago. 
The album titled Mer' End Kærlighed (More than love) is not yet on the official Album top40, but his previous album is still there after a total of 107 weeks. It has even gained a few positions from #11 to this weeks 7th best selling album. Best selling album is for the second week the compilation from the TV programme Toppen Af Poppen that had the Olsen Brothers as one of the participants. Aqua's latest album Megalomania released three weeks ago is this week's 12th best selling album, while Jette Torp, who participated in the 1997 Danish final, is #13 with her new album called Close To You. 
Three singles from Rasmus's new album has sneaked into the Track top40. Highest placed is the first single called I Mine Øjne (In my eyes) that was released 8 weeks ago and has stayed at the top of the list ever since. It has however dropped a little to this weeks 4th position. New on the list is the newly released cover version of Under Stjernerne På Himlen, which went straight into #18 on the list of best selling singles. The title song from the album Mer' End Kærlighed is also new on the same list. It ended at #39 this week. Aqua's single Playmate To Jesus is to be found as #33. 
On the Bit Album top20, which covers official album downloads Toppen Af Poppen is also best selling album. Interesting enough we also find the CD from last year's edition of the TV programme as #15. Aqua's album Megalomania is third while Rasmus Seebach's first album is 10th with a tota of 84 weeks on the list. The latest album Soulicious from Sir Cliff Richard, who represented United Kingdom twice at the Eurovision Song Contest made it into #16 on this list. Jette Torp's album Close To You is 19th with four weeks on the chart.
Rasmus's first single from the new album I Mine Øjne is to be found at #4 on this week's most downloaded singles, the Bit Track top20. Aqua's Playmate To Jesus is 10th. Those two songs are also battling at the Streaming top20 where I Mine Øjne is number one, while Playmate To Jesus is number 11. 
You can read more about Ramus Seebach's latest album and his cover version of Under Stjernerne På Himlen in our article from a few days ago.