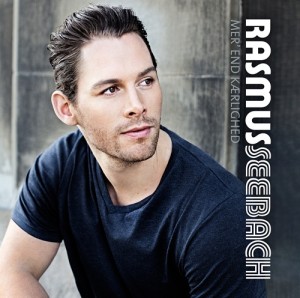 When Rasmus Seebach tomorrow release his next album it will for the first time include a cover version of one of his dad's Eurovision Song Contest entries. Senior Seebach got to represent Denmark a total of three times, but despite a lot of encouragement Rasmus has so far refused going that way.
Tommy Seebach was a household name in Denmark from the 70's and forward. His career suffered from a fall in the late 80's due to his alcohol abuse, but after his death in 2003 he became somewhat of a legend. A cinema film about his life was made, a book written and a box with all his albums released a year ago.
He represented Denmark three times: in 1979 with Disco Tango which came 6th, in 1981 a duet with him and Debbie Cameron Krøller Eller Ej ended 11th and for the last time in 1993 with Under Stjernerne På Himlen, which finished third to last and by the rules of that time meant that Denmark could not participate the following year. In the Danish final this year a tribute to him and his songs was paid.

Under Stjernerne På Himlen is in many ways what marks the end for Tommy. He had been trying to get it in to the Danish final for several years, but due to his alcohol abuse Danish broadcaster, DR, did not want to touch him at that time. Tommy was frustrated that no one else apparently could hear that he had something with that song. In 1993 it gets accepted into the line-up in the Danish final on a cancellation and when it then went on to winning quite clearly hope was that this could bring him back to the music scene he loved so much.
As Under Stjernerne På Himlen failed so miserable at the Eurovision Song Contest Tommy Seebach was personally blamed for Denmark not being able to participate the next year. He did not manage to bring his career back on track and his alcohol problem just got worse. When he died March 2003 he had not been drinking for a couple of years, but his body had suffered enough. He passed away at the age of 53.
Rasmus Seebach, the son of Tommy, is now one of Denmark's most popular singers and despite a lot of encouragement he has so far stated that he is not interested in participating at Dansk Melodi Grand Prix and the Eurovision Song Contest.
His second album that will be released tomorrow, Monday the 17th of October, includes an accustic live version of Under Stjernerne På Himlen. It is the first of his dad's songs that Rasmus releases a cover version of. Rasmus Seebach's first album from 2009 reached 9 times platinum.
Below you can find links to purchasing the album titled Mer' End Kærlighed (More than love).