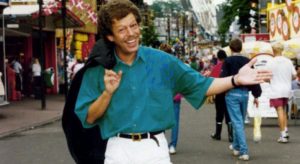 Shortly after an 11 double CD including all solo albums from Tommy Seebach has hit the streets a new book and a film about him are being released. They look into his fantastic career where he managed to represent Denmark three times in the Eurovision Song Contest, but also what led to his tragic death only 53 years old.
When Denmark in 1978 re-joined the Eurovision Song Contest after an absence of 12 years it became the start of the glorious 80's for Denmark where they achieved many good placements and had one good national final after the other. Tommy Seebach was a big part of these golden years. He managed to win the national final and go on to the international competition three times; in 1979 with Disco Tango, in 1981 with Krøller Eller Ej and in 2003 with Under Stjernerne På Himlen. Where the first two marked him as one of the most popular names in Danish pop music the last one became his downfall.
 
The new book written by Peer Kaae, that is to be released on Monday the 15th of November tells the story about how Danish Broadcaster, DR, had blocked Tommy from participating in the Danish final in 1991 and 1992 due to them being aware of him having an alcohol problem. At this point his problem was still unknown to most people, but the ones working closely with him knew about it. DR became aware of it in 1989 where Tommy was late for a live TV show and only turned up 10 seconds before entering the stage. The TV viewers didn't notice anything, but DR found out that he had been out drinking the night before and only got to the show in time as a friend woke him up at the nearby hotel 5 minutes earlier. This incident led to the broadcaster fearing for him in another live show like a Dansk Melodi Grand Prix, the Danish final.
 
In 1993 they finally gave in for his pressure and as Under Stjernerne På Himlen won the national final it looked like Tommy was on the way to get back on top. Unfortunately it didn't do well internationally with the result that Denmark was out of the 1994 Eurovision Song Contest. The medias blamed him for the bad placement, DR didn't want to give him any more chances and with the record companies also turning their back on him he started drinking even more. This resulted in his family falling apart. His wife took the children and left him and Tommy moved to an apartment right across a bar that quickly became his second home.
In 2001 he had his first heart attack and was actually dead for 8 minutes before a rescue team managed to bring him back to life. After three days in coma he woke up and immediately changed his life style. He went on Antabus/Disulfiram and didn't drink any alcohol again. His body had however already been damaged and in 2003 he had his second heart attack which killed him, only 53 years old.
The new book about Tommy Seebach is one of several things released these days as an honour and tribute to one of the most successful in Danish pop music. A CD box with 11 full albums from Tommy has recently been released and on the 17th of November a film about him is premiered. In this film the ones closest to him tells his story. This includes his son Rasmus who has followed in his footsteps and is well on the way to mark himself as one of the most popular singers in Denmark. So far he has however refused taking part in the Danish final.
Investing in the 11 double album which is being sold for just little over the price of one CD is absolutely worth the money and below you find three of Tommy Seebach's non Eurovision songs to show you a bit of what else he had to offer. We start with the ballad Du Det Dejligste, then move on to a ballad in English titled I'm In Love and finish with the pop song Du Skælder Mig Hele Tiden Ud, a duet with Anette Heick.