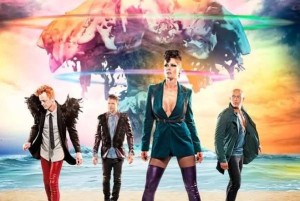 The Danish pop group Aqua that was interval act at the 2001 Eurovision Song Contest held in Parken, Copenhagen, will release their next album in October. The album that has been given the title Megalomania will be their first album completely with new songs in 11 years. 
Aqua was founded in 1994 and their debut album, Aquarium, in 1997 immidiately made them international stars due to singles like Babie Girl, My Oh My, Doctor Jones and Lolipop (Candymand). They became the first debutband to have three number one singles on the English single charts and Barbie Girl is still best selling Scandinavian single every and among the 20 best selling singles in the UK ever. Their second album Aquarius came in 2000 and included hits like Cartoon Heroes and Around The World.  
As such they were quite a well known name when they appeared as interval act at the 2001 Eurovision Song Contest the year after Olsen Brothers had won the international contest with Fly On The Wings Of Love. The same year the four Aqua members; Lene Nystrøm, René Dif, Søren Rasted and Claus Noreen, however decided to split up shortly after Norwegian born Lene and Søren got married. 
They all tried various things solo, but without much international succes. In 2007 they agreed to re-launch Aqua and a Greatest Hits album was released in 2009 containing three new songs. The album Megalomania will however be their first actual album since 2000 and only the third in total from them.
Megalomania is planned to be released on October 3rd 2011, but several of the new songs from it has been played at outdoor concerts this summer.
Below you can see the Aqua's interval act from the 2001 Eurovision Song Contest.