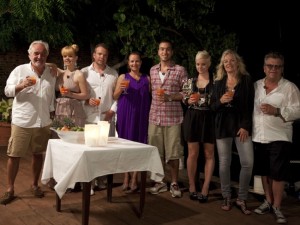 In late summer and autumn the Danish TV viewers will be able to see the Olsen Brothers give their versions of songs by other Danish artists – and to see those making cover versions of songs by that male duo Europe got to know when they won the Eurovision Song Contest in 2000 for Denmark.   
The Olsen Brothers had been a household name in Denmark for decades when they first won the Danish final, the Dansk Melodi Grand Prix in year 2000 and since went on to winning the hearts of Europe as they won the Eurovision Song Contest with their Fly On The Wings Of Love. As such most of the Danish population will be able to sing a long to those of their songs we will get to hear in the TV programme Toppen Af Poppen – but it is not the TV viewers who will be asked to sing them, but instead other Danish artists. In the same way the Olsen Brothers will also be throwing themselves into versions of songs by their colleagues.
The TV programme is based on a Dutch format called De Beste Zangers Van Nederland premiered on Dutch TV in 2009. The format has since been used in countries around Europe such as Belgium, Germany, Spain, Italy, Norway, Sweden – and Denmark, which is getting ready for its second season.
Besides the Olsen Brothers, called Brødrene Olsen in Denmark, the participants in this second Danish edition are: Anne Linnet, Søs Fenger, Rasmus Nøhr, Lina Rafn, Sys Bjerre and Joye Moe. The recording took place on the Caribian Island Antigua in June this year and first programme will hit the TV screens on the 23rd of August.