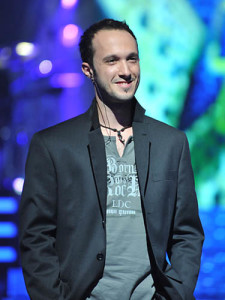 On 11th January, Bosnia and Herzegovina and national broadcaster BHRT, decided to go with Vukašin Brajić for the Eurovision Song Contest this year. They chose the young pop-rock musician, who took 2nd prize in the popular TV show, Fame Academy.
The professional jury for the Bosnia & Herzegovina's national selection, BH Eurosong 2010, decided on Vukašin Brajić and his song Munja I Grom (Lightning And Thunder). The composer of the song is Dino Šaran, a famous Bosnia-Herzegovina composer and front man of the popular rock band Letu Štuke.
Hosts of the show tonight were Ilma Ramcevic, Gorjan Kalauzovic, Nejra Sitnic, all known faces from Bosnian television channels. At the beginning on the show, a group of dancers performed the song Mamma Mia by ABBA. Then, the band Regina entered the stage performing last year's song from the Eurovision Song Contest 2009 in Moscow. Vukasin Brajic entered the scene playing guitar and singing the song, Wonderwall, while the audience were clapping.  Ana Bebic then entered the stage and sang the song with Vukasin. Then Karolina Goceva came on stage and sang a duet, which was written by Snezana and Mirko Vukomanovic, called Zaboravi (Forget).
Marcin Mroziński started singing this year's Polish song for Eurovision in Oslo. After him, the Croatian participants, Feminnem. performed their song, Lako Je Sve. It was then the turn of Macedonian singer, Gjoko Taneski, with the song Ja Imam Silat. Then, the Irish singer, Niamh Kavanagh performed. The participants for Bosnia in 1994, Elma & Adi, performed their song fom that contest, Ostani Kraj Mene. Then on came Alexander Rybak, last year's winner. He sang two songs, European Skies and Fairytale.
Then, Vukasin Brajic started singing his song. In an interview Eurovisionary had with Vukasin, he said that the name of the song is Thunder and Lightning. The song is a rock song and is very serious. It's a love song, but there are still deeper meanings, which are about the coexistence of different people in this world. At the end, Vukasin sang one more time while all the other participants in tonights show came on to the stage and gave him support.
Links