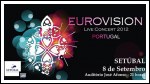 In accordance with tradition, OGAE Portugal usually think big when attracting stars to their annual concert in Setúbal, just outside of Lisbon. This year is no exception either with quite a few fan favourites taking to the stage at the open air José Aflonso Auditorium.
The Portuguese fan club managed to hold a triumphant gathering last year at the same venue, featuring the likes of Marcin Mrozinski, Jenny Silver, Marie Myriam, Chiara and many others. Despite the weather showing itself from its best side and a ridiculously low ticket price (5 EUR per person), the event still wound up in the red with dissappointing attendance figures. Such a serious financial setback jeopardized this year's event for quite some time.
Anguish was however turned to joy as OGAE Portugal confirmed that a huge open air concert would indeed be held for a fourth time, in collaboration with the Municipalities of the city of Setúbal. Portuguese hopeful and home grown talent Filipa Sousa may failed to make the final this year with her fado tinged Vida Minha, but that has showed no signs of diminishing her popularity back home as she was one of the first acts to confirm her participation. The line up was swiftly augmented with the addition of the Sinplus brothers from Switzerland, setting the stage alight yet again with their energetic Unbreakable as well as hellenic siren Eleftheria Eleftheriou, who will no doubt make the evening even hotter with her rendition of Aphrodisiac.
Another two major names have recently been confirmed for participation by OGAE Portugal, none other than this year's 6th placed Ott Lepland, who will try to recreate the magic he gave on stage in  Baku with Kuula and fan favourite Joan Franka performing her own unique brand of country with You And Me. As if that wasn't enough, the star studded international line up will be complemented by a host of Portuguese favourites who have previously taken part in this year's Festival Da Canção, such as Rui Andrade, who came 3rd with Amor a Preto e Branco and we'll also be treated to a performance of Gratia Plena by 4th placed Ricardo Soler, among many others. Further names are expected to be confirmed within the coming weeks, easily making this the biggest OGAE Portugal event thus far.
The concert is scheduled for the 8th of September, with a 9pm start, with tickets available at the door. Doors have in previous years usually opened an hour before the concert. The cover charge is yet to be confirmed but will no doubt be similar to last year, a bargain 5 euros. For more information regarding this fantastic event, visit the OGAE Portugal website. OGAE Portugal will also be holding a free concert to mark their 15th anniversary on the 26th of July, where they also intend to market the upcoming event in Setúbal. Fingers crossed that many more make the trip and the effort to koin in on the festivities giving this year's event the success it deserves.