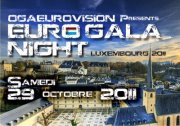 OGAE Luxembourg, as with numerous other European fan clubs is holding its annual gala evening on Saturday the 29th of October. This year will mark the 5th anniversary of the club's gathering and the organisers promise to make the even something pretty special.
Festivities will already get underway on the Friday evening, with a Eurovision warm up party to be held at the Scandinavian Crossfire Bar, also located in the heart of this thoroughly European capital, starting at 10 pm.
So far, the committee behind the event have certainly kept their word. In order to mark the 5th anniversary, this year's Gala Evening is to be held in th Grand Théâtre de Luxembourg, the venue were both the 1973 and 1984 contests were held. Proceedings start at 8 pm. As if that wasn't enough, those attending the event will be treated to a fantastic line up of guests, consisting of former Eurovision entrants Omar Naber (Slovenia 2005), Anabela (Portugal 1993), D'Nash (Spain 2007) and Maja Keuc (Slovenia 2011). The evening will also feature 10 pluckly amateur performers giving their own renditions of Eurovision classics, each hoping that theirs will be voted as the best performance of the evening by an international jury.
For those wishing to carry on dancing and having fun, the party will continue on into the wee hours in a venue adjacent to the theatre, in the form of an after show party. The event is being held with sponsorship from the city of Luxembourg, broadcaster RTL, radiostation DNR, airline TAP Portugal and Telecran. Tickets for the event are available online at the event website, costing EUR 25 for advance purchase (foreign guests only) and EUR 35 at the door on the night. AS in previous years, a broad mix of nationalities is expected to attend the event. More information about the event and reservations can be made on the Gala website.