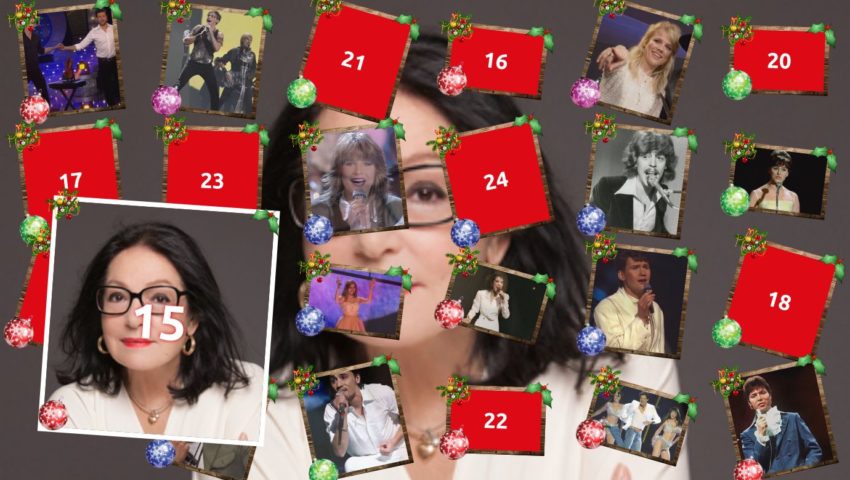 Warm up to Christmas by listening to the beautiful carols performed by Eurovision artists. Each day until Christmas features a new act giving their version of a Christmas song. As 15th, we listen to Nana Mouskouri.
Back in 1963, Luxembourg was represented by Greek singer Nana Mouskouri. With the French languaged song À Force De Prier, she finished 8th. Nana, who released her first album in 1960, has recorded songs in many languages not just in Greek and French, but also in Dutch, German, Italian, Portuguese, Hebrew, Chinese and Turkish. Today, Ms Mouskouri is 84 years old.
In today's advent calendar, we listen to Petit Garçon. The song is originally in English, Old Toy Trains, by Roger Miller released in 1967. The French languaged version came the year after, in 1968. Nana Mouskouri first sang the song in 1972. She has also recorded it in English, but today, it's the French version, we'll listen to.
In this series:
Day 14: Dima Bilan – Last Christmas 
Day 13: Tommy Seebach – Vi Ønsker Jer Alle En Glædelig Jul
Day 12: Ilse DeLange – Midden in de Winternacht
Day 11: Celine Dion – Oh Holy Night
Day 10: Cliff Richard – Mistletoe & Wine
Day 9: Zoë – La Nuit Des Merveilles
Day 8: Il Volo – Christmas Medley
Day 7: Alexander Rybak & Didrik Solli-Tangen – Presents
Day 6: Sakis Rouvas – Xronia Polla Christmas
Day 5: Litesound – Shooting Star
Day 4: Grethe Ingmann – Jeg Så Julemanden Kysse Mor
Day 3: Carola – Nu Tändas Tusen Juleljus
Day 2: Francesco Gabbani – La Mia Versione Dei Ricordi