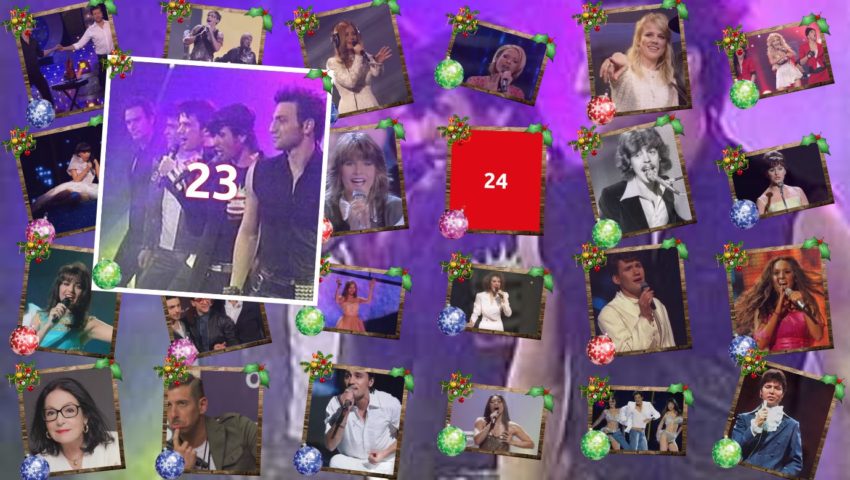 Warm up to Christmas by listening to the beautiful carols performed by Eurovision artists. Each day until Christmas features a new act giving their version of a Christmas song. As 23rd, we listen to an untraditional Greek version of "Last Christmas"
The band One represented Cyprus at the 2002 Eurovision Song Contest. They finished 6th with the song Gimme. The band was active from 1999 to 2004. Part of the band was Constantinos Christoforou who had previously taken part in Eurovision in 1996. With the song Mono Yia Mas, he came 9th. After the band split up, he once again returned to the contest. In 2005, his Ela Ela (Come Baby) finished as 18th.
Last Christmas is a song most know very well. It was a big hit by Wham in 1984, and is still today one of those Christmas songs, you can't avoid. This version by One is however quite different from the original with the verses now made into rap! And of course, it is in Greek.
In this series:
Day 22: Anggun & Ronan Keating – Have Yourself A Merry Little Christmas
Day 21: Maraaya – Winter Wonderland
Day 20: Tina Karol – Тиха Ніч (Silent Night)
Day 19: Katy Garbi – O Χειμώνας o βαρύς (Winter Wonderland)
Day 18: Kalomira – Ta Xristougenna Auta
Day 17: Dami Im – All I Want For Christmas Is You
Day 16: Michelle – Stille Nacht, Heilige Nacht
Day 15: Nana Mouskouri – Petit Garçon
Day 14: Dima Bilan – Last Christmas 
Day 13: Tommy Seebach – Vi Ønsker Jer Alle En Glædelig Jul
Day 12: Ilse DeLange – Midden in de Winternacht
Day 11: Celine Dion – Oh Holy Night
Day 10: Cliff Richard – Mistletoe & Wine
Day 9: Zoë – La Nuit Des Merveilles
Day 8: Il Volo – Christmas Medley
Day 7: Alexander Rybak & Didrik Solli-Tangen – Presents
Day 6: Sakis Rouvas – Xronia Polla Christmas
Day 5: Litesound – Shooting Star
Day 4: Grethe Ingmann – Jeg Så Julemanden Kysse Mor
Day 3: Carola – Nu Tändas Tusen Juleljus
Day 2: Francesco Gabbani – La Mia Versione Dei Ricordi