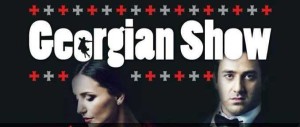 Nodi & Sophie sang the beautiful Waterfall at the 2013 Eurovision Song Contest representing Georgia. Now they are to be a part of a unique Georgian Show and tour around Europe including Germany, France and Luxembourg.
Nodi Tatishvili and Sophie Gelovani won many hearts with their powerful ballad, Waterfall, at the 2013 Eurovision Song Contest in Sweden. The song was composed by the winning Eurovision composer of 2012, Euphoria, Thomas G:son with Eric Bernholm.
The duo have had considerable success also as solo artists. Nodi has participated in many international musical festivals, including the International Music Festival and The Amber Star in Lithuania, Astana 2007 in Kazakhstan, Slaviansky Bazar in Belarus, and Golden Voices in Moldova. He also won the populare Geostar talent show in 2009 in Georgia. Sophie won the Georgian talent show Morning Star in 1999. She has been successful in international festivals such as Do-Re-Mi in Armenia in 2000 and the Grand Prix of the Songs of the World contest in Moldova in 2006. She also won the Grand Prix at the Vesna Romansa festival in St. Petersburg, Russia.
Now Nodi and Sophie are together again and touring Europe and taking to the stage with the Georgian Show. This event has been directed by Lasha Oniani, who was involved with the choreography for the Georgian Eurovision stage performances for Nodi and Sophie in Sweden and also Anri Jokhadze in Azerbaijan.
Concerts are to take place on 3 December in Luxembourg, 5 December in Paris, France and 7 December in Düsseldorf, Germany. Nodi and Sophie will be joined by traditional Georgian dance and vocal groups. The final concert in Germany will be a charity event for the dedication of building an Orthodox church for Georgian residents in Germany.
Nodi and Sophie are also working on some more exciting projects together. More information about this will be revealed soon.
You can see Nodi and Sophie performing Waterfall at the rehearsal of the Eurovision in Sweden with 3D coverage by EuroVisionary below.
You may also like to read –