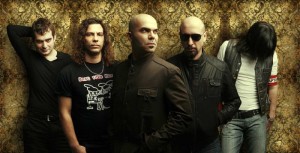 The former Turkish representative group Yüksek Sadakat announced that their latest album is on the way for their fans. This is just their third album on their very long musical career.  The group have planned very special premiers which will be held both in İstanbul and Ankara.
After one of the biggest failures in Turkey's Eurovision Song Contest history, the rock band Yüksek Sadakat quickly prepared theirselves for a new album which will be released on the third week of November. According to the official website of the group, they have already finished their studio work and the first video of a song from the album is about to be recorded.
The group will premier the album with two concerts in İstanbul and Ankara. The premier in Istanbul will take place in Jolly-Joker İstanbul on Friday 4 November and then in Ankara it will be held in Jolly-Joker Ankara Scene on 12 November. The premiers of course will be open for everyone interested about the group and tickets to both premiers can be found on Biletix.com.
Whilst the third album preparations were going on in the couple of last months, the group also were  interested in working with another former Turkish representative name Ajda Pekkan. Ajda and members of Yüksek Sadakat came into a studio to do a duet one of Ajda's song Ucuz Roman. The song Ucuz Roman was also released with her latest album. As it will be remembered, the superstar of Turkish pop music, Ajda Pekkan who is now 65 years old, represented Turkey at the 1980 Eurovision Song Contest with her song Petr' Oil, which finished in 15th position.
Below you can watch the rehearsal video of Yüksek Sadakat performing their entry Live It Up. Unfortunately, the group could not make it through to the final of the 2011 Eurovision Song Contest which was held in Düsseldorf.  You can also listen the duet Ucuz Roman below.