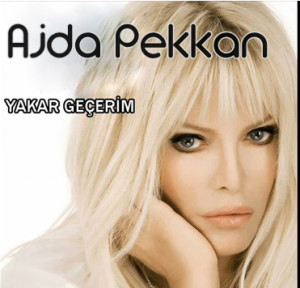 Former Turkish representative, Ajda Pekkan who participated at the Eurovision Song Contest in 1980, has made it to the charts in her home country with her new single Yakar Geçerim.
Superstar of Turkish pop-music, Ajda Pekkan who is by now 65 years old, represented Turkey at the 1980 Eurovision Song Contest with her song Petr' Oil, which ended 15th. Ajda presents a younger looking image and a performance on stage not standing back for the youger ones, especially with the songs from her last single named Yakar Geçerim.
The song Yakar Geçerim, which is written and composed by another Turkish popstar Tarkan, was performed by both as a duo. Then the single saw its premiere on 3rd of June on radios while the videoclip was released on the 18th of July 2011.
Although it has been only about a month since the single was released Yakar Geçerim made a sensational entry on top of the Turkish pop charts. You can see her success in Turkish charts below (from 7th of August 2011):
 Avea (Top 20) – #1
 TTNet Music (Top 100) – #1
 Nielsen Music Chart (Turkey Top 5) – #3
 Kral TV videochart (Top 20) – #4
 Kral FM Music Chart (Top 20) – #5
 PowerTurk Videochart (Top 20) – #7 
Below you can watch the official videoclip of this single Yakar Geçerim. You can hear more songs on Ajda Pekkan's official website.