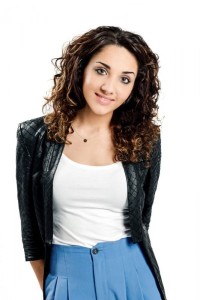 Österreich rockt den Songcontest – Austria rocks the song contest! With this slogan the Alpine Republic chose its representative for the 2013 Eurovision Song Contest tonight. Five candidates participated in the national final. Natália Kelly finally won the 50:50 split voting between jury and televoting and will represent the country in Malmö.
The songs: (You can read more about the participants in out Get to know-article)
1) Falco Luneau – Rise above the night 
Falco has the honour to kick off the presentation of the competing entries. His song starts slowly as a ballad, but turns into a midtempo popsong after the first chorus. Falco is dressed in a black suit with a white shirt and a black tie. On stage he is supported by a band. His vocals are flawless. Being interviewed after the song Falco says he enjoyed his performance on stage. In case of winning the national final, he will go through the Kärntner Street in Vienna on skis (for charity reasons). If he also get 10.000 likes on Facebook, he will even do it in underwear.
2) Yela – Feels like home 
Yela whose real name is Daniela starts singing her reggae inspired song sitting on the sofa. After the first chorus she finally stands up so that we get to see her black and white coloured dress with a red belt. Together with her are two male musicians at the drums and the guitar who also support her as background singers. Vocally Yela delivers a very secure and relaxed performance. As Yela lives in New York she is asked how often she comes to Austria. Yela answers that she usually comes once per year (for Christmas), but also likes the Austrian summers. In New York she misses Austrian brown bread.
3) Elija – Give me a sign 
Next on stage is Elija who performs his rock inspired midtempo pop song. Just like his forerunners he is vocally very good and secure. Elija is dressed very casual wearing black pants and a white shirt combined with a black leather jacket and white sneakers. His band on stage consists of three male musicians with guitar, bass and at the drums. During his interview we learn that Elija not only sings, but also produces and writes his songs. He calls himself a control freak. He says the Eurovision Song Contest is a big chance for him to perform his songs to a huge audience. Being asked about the other competitors he answers that they are all very good and at the end it is just a question of taste.
4) Natália Kelly – Shine 
Next up is Natália Kelly with her midtempo and RnB inspired ballad Shine. Natália is accompanied by five female backing singers on stage. She wears skinny black pants and a white top. Natália has a very powerful voice and hits all the notes in a perfect way. At the end of the song we see a fire rain as a special effect to underline the build up of the song. After leaving the stage Natália tells us that she is so happy and that she enjoyed her performance. It was very hot on stage, but the wind machine cooled it down. Despite being only 18 years old and thus the youngest contender Natália is never nervous before her performances.
5) The Bandaloop – Back to fantasy
Tonight's last competitor is the band The Bandaloop. They present us a very modern electro pop song with a rap part by one of the two male band members in the middle of the song. The band's trademark are the extraordinary outfits. The female lead singer wears skin coloured pants combined with a jacket of multicoloured feathers and pink high heels as an eyecatcher. Vocally they deliver a solid performance as well. 
The show:
The show started at 20:15 CET and was presented by Andi Knoll and Miriam Weichselbraun. It was devided into two parts. During the first part the competing
artists had each to perform a Eurovision winning entry while in the
second part they sang their possible entry for Malmö. The first part was not shown via webstream as there were no rights to broadcast them via the internet. These songs were performed in part one:
Natália Kelly – Ne partez pas sans moi
Falco Luneau – What's another year
Elija – Euphoria
Yela – Love shine a light
The Bandaloop – Waterloo
ORF did not show an interval act. Instead they did a commercial break. Afterwards they showed a sum up of the entries that have already been selected for Malmö (Denmark, Ukraine, Germany, Switzerland, Iceland).
The voting:
The winner was selected through a 50:50 jury and televoting deliberation. The jury consisted of five members: Marija Serifovic (Eurovision winner 2007 for Serbia), Luke Fisher (editor of escxtra.com), Gerd Gebhardt (German producer), Anton Zetterholm (Swedish musical actor) and Shay Byrne (Irish radio presenter).
Jury vote:
Falco 24 points
Yela 34 points
Elija 6 points
Natália Kelly 32 points
The Bandaloop 4 points
Televoting:
Falco 25 points
Yela  16 points
Elija 10 points
Natália Kelly 38 points
The Bandaloop 11 points
Final result:
Falco 49 points
Yela 50 points
Elija 16 points
Natália Kelly 70 points
The Bandaloop 15 points
So Natália Kelly will represent Austria at the 2013 Eurovision Song Contest in Malmö. Austria will perform in the first part of the first semi-final on May 14th.
Austria at the Eurovision Song Contest:
Austria had its debut at the Eurovision Song Contest in 1957. Their biggest success was in 1966 when Udo Jürgens won the contest with Merci Chérie. Until today this has been the only Austrian victory. The country has never reached a second or third place, but scored five positions among the top 5 (1958, 1964, 1972, 1977 and 1989). Due to a lack of good results the country has quit the contest several times – between 1973 and 1975, in 2006 and between 2008 and 2010. Last year Austria was represented by the band Trackshittaz and their song Woki mit deim Popo who finished last in the first semi-final. This was the 7th time Austria finished at the bottom of the scoreboard.
You may also like to read: