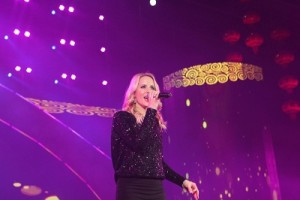 Songstress' Christine Guldbrandsen's is just back from a recent trip to China, her second in the space of six months. As was the case with Secret Garden, the Chinese seem to be insatiable when it comes to getting enough of the sweet sounds of Miss Guldbrandsen.
In a time when Sino-Norwegian relations are at an all time low, it's good to know that strained diplomatic ties aren't proving to be a hindrance when it comes to the expansion of Christine Gulbrandsen's career. After representing Norway at the 2006 Eurovision Song Contest in Athens with Alvedansen, her career hasn't exactly exploded in her native Norway, so it's fantastic to see that other territories have spotted the singer's talents.
Secret Garden were another Norwegian act to have begun to make a name for themselves in one of the biggest music markets in the world. That was, until relations froze almost overnight, following the announcement that Norway had awarded the Chinese dissident Liu Xiaobo the 2010 Nobel Peace Prize. Another Eurovision winner, Alexander Rybak was scheduled to perform in a musical project in Beijing, Some Sunny Night, before Chinese authorities pulled the plug on the project.
So, it is extremely encouraging to see that Christine is being welcomed with open arms; could this be a sign that relations are beginning to thaw? This was her second visit to the land of the dragon, following a visit she made in August last year at the Ordos International Nadam Fair, where her perfomance was broadcast to approximately 250 million viewers. This first encounter clearly gave the Chinese a taste for her honeylike vocals, as they wasted no time in inviting her back!
After completing a string of Christmas concerts in her homeland, Christine flew out to China on the 31st of January for a string of TV and radio appearances in conjunction with the Chinese New Year celebrations. This time around her trip took her to Beijing and Xianfan, where she was one of the headliners in the Spring Festival Evening. Her appearance included a performance of the english version of her 2006 Eurovision entry Alvedansen, entitled Elves' Dance as well as a track called Invisible Friend from her debut album, Surfing In The Air, from 2003. Christine was brave enough to even give a rendition of a song in both Chinese and English, Jasmine, sending fans wild and earning her rave reviews. The performance was broadcast once again on TV, to an audience estimated to be equally as huge as her previous appearance. Performances of both Elves' Dance and Invisible Friend can be seen below.
You might also like to read: