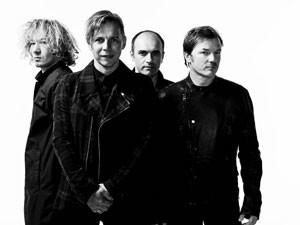 Quirky Russian rockers Mumiy Troll are currently sailing around the world on board the ship Sedov and have their latest english langauge album Vladivostok was given a simulatneous April release in the US and Russia. Now it's the turn of the UK, with the band making a number of appearances there this summer.
The Olympics is everywhere these days, with only weeks to the start of the mammoth event. Russian rock stalwarts Mumiy Troll certainly know when to make their move, as they announce concert dates in the run up to the release of their latest english language offering Vladivostok in the UK, currently scheduled for the 3rd of September.
Russia made a succesful bid to hold the winter Olympic games in Sochi in 2014, and what better way to promote the event than to get help from one of their major music exports, namely Mumiy Troll. Since representing Russia at the 2001 Eurovision Song Contest in Copenhagen with Lady Alpine Blue, the band have gone from strength to strength, building up a loyal following throughout Europe. The quartet will be casting their glamorous presence over the opening ceremony of the Olympics with a performance on the 28th of July in Kensington Gardens, as headliners of an event that is part of the Red Rocks project, with the aim of promoting the 2014 Winter Olympics. In taking part, Mumiy Troll wish to show their support for their fellow countrymen and Russian athletes who are competing at the 2012 Summer Olympics in London this year. The band will be performing alongside other names such as Vopli Vidopliassova, Garik Sukachev & Neprikasaemye and DJ Marat Hussein.
The event will mark the beginning of a number of appearances by the Russian supergroup in the UK, with dates and venues confirmed in September, as they give two concerts. Their first concert will be on the 7th of September at the 02 Academy in Islington, London, with the group also giving fans in the north of the country a treat, with a concert on the 8th of September at the Roadhouse in Manchester. Tickets are available through concert organiser Live Nation for their London gig, and are priced at £20, a bargain to get to see this formidable group live. Tickets for their Manchester gig can be purchased through Ticketline at the bargain price of £11.
German fans are also promised not to miss out on the newest studio offering, with a German release scheduled for the 27th of July. Two singles are also to be given separate releases in both Germany and the UK; namely Hey, Tovarish and Contraband, the video to Hey, Tovarish can be seen below: