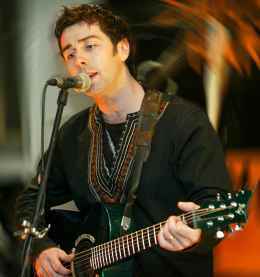 One of Ireland's most gifted performers, Mickey Joe Harte, has been hard at work lately, busy with a project that holds a special place for him. Working with an array of artists, their creativity has produced a song, Come Gather All, celebrating amongst other things an important cultural event.
Since his breakthrough, Mickey Joe Harte has repeatedly proven himself as a creative force to be reckoned with. Doing his own thing has taken the singer Stateside, treating American fans to his own brand of soul last year and the release of the critically acclaimed album Forward to Reality last autumn had reviewers reaching for the superlatives in praising his work.
Born and bred in County Donegal, the local community has always been important to him, in everything he does. And what higher accolade to bestow upon the local lad, than to appoint him as an ambassador for a major cultural happening that is the Donegal Gathering. This year also sees the 25th anniversary of the Earagail Arts Festival, something Harte wished to pay tribute to in the form of this unique musical commission.  
Joining forces with univerally respected musician Paul Brady as well as American artist and producer John Condron, their fitting tribute to the event, the song Come Gather All was recently unveiled. The intention of the song was to give people pride, uniting them through their common love of the Irish culture and for Mickey Joe Harte, it was a way for him to give back to the community that has given him so much. Reactions to the song have been overwhelmingly positive, and Festival Director of the Earagail Arts Festival Paul Brown stated in a press release recently that "There could be no more fitting homage to the 25th anniversary of the Earagail Arts Festival, than through the medium of a new music commission by some of Ireland's most established musicians and one that features so much emerging Donegal musical talent. It's a fantastic piece of music with significant international appeal and a song that connects with all Irish people at home and abroad."
The celebration of everything Irish will feature many highlights throughout the year – more information about the extensive programme of events can be found on the official website of the event. You can here Mickey Joe Harte's rousing tribute on the Earagail Arts Festival website. Like what you hear? Come Gather All is together with Mickey's album Forward to Reality available on iTunes.
You might also like to read:
Links